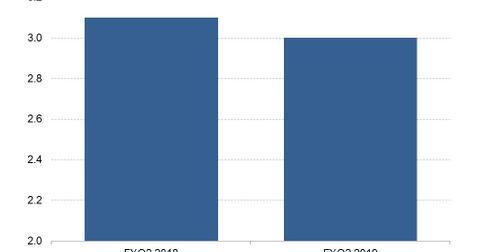 Viacom Tries to Find Strength in Weakness
By Ruchi Gupta

Updated
Viacom cuts programming rates to secure contracts
If the long outages of the Univision and AT&T (T) channels on Dish Network's (DISH) platforms are anything to go by, cord cutting seems to have diminished the bargaining power of pay-TV content providers.
Aware of the eroding power of content providers when it comes to negotiating programming fees with pay-TV operators, Viacom (VIAB) is making voluntary programming fee cuts in apparent attempts to keep contracts with its pay-TV partners. According to a report by the Wall Street Journal, this spring, Viacom agreed to substantially lower the fee it charges AT&T to air its channels on the DIRECTV platform. Viacom made a similar concession in 2017 to secure a programming contract renewal with Charter Communications (CHTR), the report said.
Article continues below advertisement
Dish dropped Univision channels in programming fee dispute
Cord cutting, the trend in which households are abandoning traditional pay-TV bundles in favor of online video services, is shrinking the pay-TV market, leaving both content providers and distributors feeling the heat. Cord cutting has made it harder for content providers to raise programming rates for pay-TV distributors. Disagreements over programming fees resulted in Univision channels going dark on Dish Network for months. AT&T's HBO also went dark on Dish after the two failed to reach an agreement on the channel's programming fee.
Viacom hopes for expanded agreements with distributors
By accepting lower rates for its channels, Viacom is at least protecting itself from having its channels dropped by pay-TV distributors, which could cause it a massive revenue loss. Viacom also hopes that nurturing good relationships with pay-TV distributors will help it open up new business opportunities, such as supplying those partners with content for distribution beyond TV into the mobile and digital platforms. Viacom has secured contracts to produce shows for Netflix (NFLX) and Facebook (FB) for their digital video services.
Viacom's revenue fell 6.0% YoY to $3.0 billion in the third quarter, which is the company's second quarter of fiscal 2019.