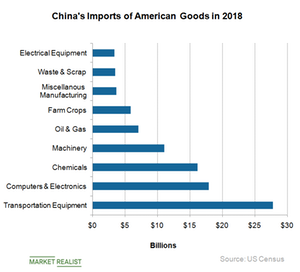 US-China Trade War Developments Influence FXI and SPY Movements
By Puja Tayal

Jul. 31 2019, Updated 3:46 p.m. ET
US-China trade war
The trade war between the United States and China started back in July 2018 when the former imposed 25% tariffs on $50 billion worth of Chinese imports and China retaliated with an equal amount of tariffs. The situation got worse when a 10% tariff was levied on $200 billion worth of Chinese imports in September 2018 followed by retaliation from China on $60 billion worth of US imports.
The above tariffs slowed economic demand and sent the global stock market into a downturn in the fourth quarter of 2018. However, the United States and China opened up to negotiations and postponed their next round of tariffs until March 2019. While the negotiations were ongoing, optimism built up, sending semiconductor stocks to new highs.
The VanEck Vectors Semiconductor ETF (SMH) rose 33.2% between January and April after falling 18.2% in the fourth quarter of 2018. The Xinhua China 25 Index (FXI) rose 13.8% after falling 9.2% during the same period.
Article continues below advertisement
The difference of opinion between the United States and China
Media reports from both countries citing confidential sources stated that there was a 130-page document, which both countries were negotiating on. American sources stated that Chinese reduced the negotiation to 103 pages, whereas Chinese sources stated that the United States kept adding more demands at the later stage of negotiations, some of which were unacceptable from a political and social standpoint.
Among the points on which the United States and China differed was China increasing imports of American goods by another $100 billion annually. The South China Morning Post, citing Chinese sources, stated that the United States made it difficult for China to accept this term by placing an extensive ban on high-tech exports to China. As China mostly imports technology products from the United States, the former is left with only agricultural products and liquefied natural gas to meet the above condition.
Another point of difference came when the United States stated that it could impose tariffs on Chinese products if the changes implemented by China fail to meet its requirements. The difference of opinions led the way to another round of trade war, and this time negotiations are not in sight.