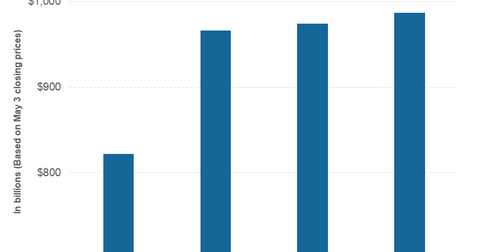 The Berkshire Hathaway Mystery: Who'll Step into Buffett's Shoes?
By Mohit Oberoi, CFA

Updated
Berkshire Hathaway
Over the last couple of years, Berkshire Hathaway (BRK-B) chair Warren Buffett has been facing a lot of questions about his successor. Buffett will turn 89 this year, so it's only natural that investors want some insight in regards to the possible successor. Berkshire's recent performance has lagged the S&P 500 (SPY).
Article continues below advertisement
In this year's annual meeting, Buffett was bombarded with questions on his successor. Greg Abel and Ajit Jain are apparently the two front runners for the job. Both were promoted to vice chair positions last year. While Jain manages Berkshire's insurance operations, Abel manages the non-insurance business.
Warren Buffett
While Buffett dodged direct questions over who would take over his position, but he gave hints that it could be either Abel or Jain. CNBC reported that Buffett said at the annual meeting that "Greg Abel and Ajit Jain could one day join him and Vice Chairman Charlie Munger on stage and answer questions from shareholders." Jain and Abel also took questions from the audience at the annual meeting. In reference to Abel and Jain, Buffett said, "You could not have two better operating managers than Greg and Ajit. It's just fantastic what they've accomplished."
Charlie Munger
Charlie Munger also chimed in on the succession question. He said, "One of the reasons we have trouble with these questions is because Berkshire is so very peculiar. We have a different, kind of unbureaucratic way of making decisions." However, the question about who will lead Berkshire after Buffett remains unanswered.
In the annual meeting, Buffett also answered questions about some companies in his portfolio like Apple (AAPL), Kraft Heinz (KHC), Wells Fargo, and Amazon (AMZN). Berkshire recently added Amazon to its portfolio. Read Buying Amazon Might Not Make Up for Buffett's 'Terrible Mistake' for more analysis.