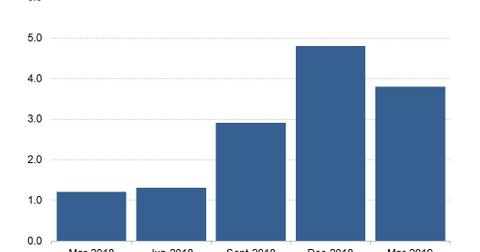 Race for Metro Assets to Renew the Alibaba-Tencent Rivalry
By Neha Gupta

Updated
Alibaba and Tencent want a piece of Metro
German retailer Metro is looking to sell a majority stake in its Chinese operations, and Alibaba (BABA) is one of those interested in a deal. Many other entities have expressed interest in purchasing the Metro China stake that's up for sale, and it looks like the race will renew the rivalry between Alibaba and Tencent (TCEHY). According to a Reuters report, Tencent is considering joining Alibaba in placing a bid for a stake in Metro China.
Article continues below advertisement
Tencent and Alibaba already compete in many areas in their domestic market of China and beyond. Tencent is an investor Alibaba's e-commerce challenger JD.com (JD). It also competes with Alibaba in the mobile payment space. Last year, Tencent persuaded Walmart (WMT) to drop Alibaba's Alipay for its WeChat Pay service in its stores in the western region of China.
Alibaba and Tencent also back rival startups in areas such as e-commerce, digital payments, and local deliveries around the world. In India, for instance, Alibaba backs Paytm, a startup with interest in mobile payment and e-commerce services. On its part, Tencent backs Paytm's rival Flipkart. Last year, Walmart bought a majority stake in Flipkart. Before that, Tencent had teamed up with eBay (EBAY) and Microsoft (MSFT) to pump $1.4 billion into Flipkart. eBay later sold its stake in the business to Walmart.
Using Metro locations as pickup spots for online shoppers
Metro China is a crown jewel for online retailers with big ambitions. Besides being a gateway to premium imported products that China's middle-class consumers crave, Metro China operates dozens of offline stores across China that companies such as Alibaba or the Tencent-backed JD could use as pickup locations for items purchased on their online marketplaces.
Alibaba made a profit of $3.8 billion in the first quarter.