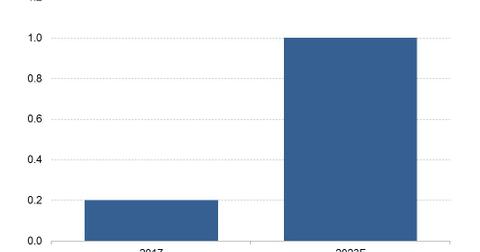 PayPal and Amazon Bet On Payment Convenience in India
By Neha Gupta

Updated
PayPal launches OneTouch as Amazon adds peer-to-peer payment
The race to dominate India's fast-growing digital payment market is heating up, and PayPal (PYPL) and Amazon (AMZN) can be seen counting on payment convenience to win over customers. This month, PayPal introduced its OneTouch feature in India, allowing its customers in the country to enjoy a frictionless payment experience, according to Mint's newspaper. The OneTouch feature eliminates the need for people to repeatedly log in to their PayPal accounts every time they want to complete a transaction.
Article continues below advertisement
The move by PayPal to bring its OneTouch feature to India came shortly after Amazon upgraded its Amazon Pay platform in the country to introduce a peer-to-peer payment service. With the upgrade, Amazon Pay users in India can now use the app to easily transfer money to friends and family, settle bills, and pay for purchases right from their handsets. PayPal and Amazon hope that the simplification of payments on their platforms will boost their chances of winning more customers in India.
The race for India's $1.0 trillion digital payment market
India's digital payment market will grow to $1.0 trillion annually by 2023 from ~$200 billion in 2017, according to Credit Suisse projections. Besides PayPal and Amazon, the other companies pursuing this revenue opportunity include Google (GOOGL), Alibaba (BABA), and Facebook (FB). In 2017, Google launched a localized payment app in India called Tez.
Last year, Google upgraded Tez, adding a consumer loans service. Alibaba is pursuing the revenue opportunity in India's digital payment market through a local company known as Paytm, in which it has invested. On its part, Facebook has been testing a mobile payment service linked to its WhatsApp platform in India.