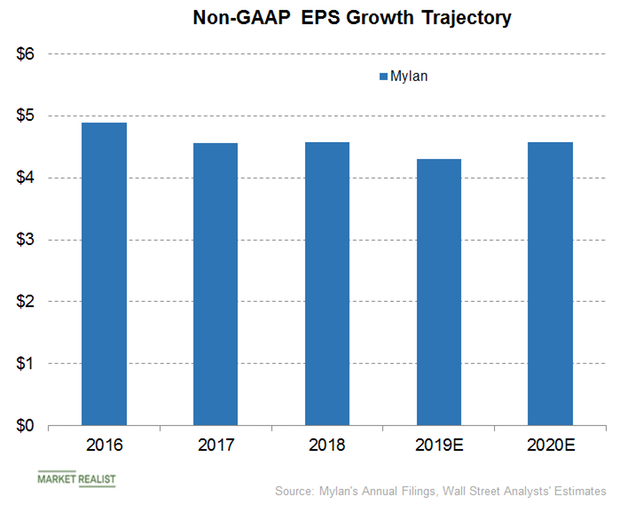 Mylan Reiterated Fiscal 2019 Adjusted EPS Guidance
By Margaret Patrick

May. 10 2019, Published 2:52 p.m. ET
Adjusted EPS guidance
During its first-quarter earnings conference call, Mylan (MYL) reaffirmed fiscal 2019 adjusted EPS guidance of $3.80 to $4.80, which would be a decline of 5% to 6% at the midpoint on a YoY basis. According to what the company said at the Raymond James 40th Annual Institutional Investors Conference, Mylan anticipates higher SG&A (selling, general, and administrative) spending ahead of new product launches scheduled for fiscal 2019. However, since a higher number of new product launches are scheduled for the second half, the company expects these expenses to prove to be a headwind to its bottom line in fiscal 2019. Mylan expects to benefit from these investments in fiscal 2020. Mylan expects its EPS as a percentage of total revenues to be four to five percentage points higher on a YoY basis in the second half of fiscal 2019.
Article continues below advertisement
Analysts expect Mylan's non-GAAP EPS to change YoY by -5.87% to $4.31 in fiscal 2019, 6.18% to $4.58 in fiscal 2020, and 5.41% to $4.83 in fiscal 2021. Analysts also expect Mylan's non-GAAP EPS to change YoY by -10.70% to $0.96 in the second quarter, -7.22% to $1.16 in the third quarter, and 4.89% to $1.36 in the fourth quarter of fiscal 2019.
Adjusted free cash flow guidance
In the first quarter earnings conference call, Mylan has reaffirmed its fiscal 2019 adjusted free cash flow guidance of $1.9 billion to $2.3 billion.
In the first quarter, Mylan reported adjusted free cash flow of $27.1 million, a YoY decline of $637 million or 96%. According to the first-quarter earnings conference call, this dramatic drop was partly associated with the timing of the new product launches as well as the working capital investment that is required to support new products in fiscal 2019. The ongoing restructuring and remediation at the company's oral solid dose plant in Morgantown, however, had a positive impact on the company's adjusted free cash flows in the first quarter.