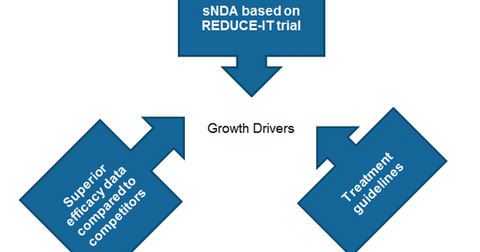 Label Expansion to Boost Revenue Growth for Amarin's Vascepa
By Margaret Patrick

Updated
Label expansion
On March 28, Amarin (AMRN) issued a press release announcing the submission of an sNDA (supplemental new drug application) to the FDA seeking label expansion for Vascepa based on results from the REDUCE-IT cardiovascular outcomes study. The company expects the FDA to communicate the review timing with 60 to 74 days from the day of the receipt of the application. While the FDA hasn't yet announced the acceptance of the submission, based on the standard review period of ten months, Amarin expects the Prescription Drug User Fee Act date to be set for the end of January 2020. The company has also assumed the possibility of FDA Advisory Committee involvement for this sNDA on account of the large patient population that could be potentially targeted by Vascepa.
Article continues below advertisement
Superior efficacy data
On March 18, the company issued a press release announcing new data from the REDUCE-IT trial, which highlighted the 30% risk reduction of total cardiovascular events in statin-treated patients who were administered Vascepa as compared to those on placebo therapy.
In November 2018, Amarin issued a press release announcing primary results from the REDUCE-IT trial, which confirmed 25% RRR (relative risk reduction) in the first occurrence of MACE (major adverse cardiovascular event) in the statin-controlled patient population as compared to the placebo. According to Amarin's first-quarter earnings investor presentation, other drugs such as cholesterol absorption inhibitors, PCSK9 inhibitors, anti-inflammatory therapies, and Epadel have demonstrated 6%, 15%, 15%, and 19% RRR in MACE on top of statin therapy.
Treatment guidelines
On March 28, Amarin issued a press release announcing the inclusion of icosapent ethyl in the Standards of Medical Care in Diabetes for 2019 by the ADA (American Diabetes Association), based on the results of the REDUCE-IT trial. According to the first-quarter earnings conference call, Vascepa is the only commercially available form of icosapent ethyl. The company reported increased prescribing trends for Vascepa from cardiologists and endocrinologists after this update.