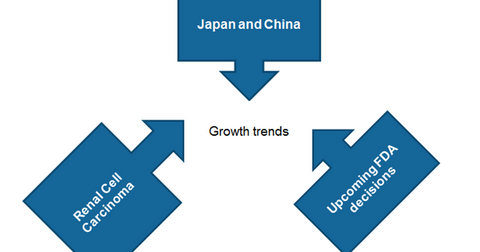 Keytruda's Label Expansion and Geographic Market Trends
By Margaret Patrick

Updated
International market performance
In its first quarter, Merck's (MRK) ex-US Keytruda sales rose 69% YoY (year-over-year) to ~$985 million, and lung indications accounted for 70% of the sales. With a new patient share of ~75%, Keytruda is the global market leader in squamous cell lung cancer treatment.
Article continues below advertisement
Japan and China
Keytruda revenue was robust in Japanese markets, driven mainly by demand for Keytruda-chemotherapy combination regimens in first-line NSCLC (non-small cell lung cancer) indications. The drug's uptake was also robust in MSI-high (microsatellite-instability high) tumors and adjuvant melanoma.
In the first quarter, Keytruda revenue grew robustly based on its use in adjuvant melanoma indications. On April 1, Merck announced the National Medical Products Administration of China's approval of Keytruda in chemotherapy combination regimens for first-line metastatic nonsquamous NSCLC.
Merck reported in its first-quarter conference call that there are 600,000–700,000 lung cancer patients in China. Merck estimates that around 200,000 of these patients are eligible for treatment with Keytruda-chemotherapy combination regimens. To leverage this opportunity, Merck plans to work with regulatory agencies to include Keytruda-chemotherapy combination regimens in the Chinese National Reimbursement Drug List.
Article continues below advertisement
Label expansion
On April 22, Merck announced the FDA's approval of a Keytruda-Inlya combination regimen in first-line advanced renal cell carcinoma indications. The combination regimen demonstrated efficacy in terms of overall response, progression-free survival, and overall survival when compared with the standard of care, Sutent, in Merck's KEYNOTE-426 trial. The robust data prompted the FDA to approve the combination regimen two months before its PDUFA (Prescription Drug User Fee Act) date. Merck expects the indication to be a major growth driver for Keytruda in US markets.
Upcoming FDA decisions
Merck is waiting for the FDA's decision on Keytruda as a monotherapy and in combination with chemotherapy in first-line metastatic head-and-neck squamous cell cancer, which has a PDUFA date of June 10. The company is also waiting for the FDA's decision on Keytruda in third-line advanced small cell lung cancer, for which the PDUFA date is June 17.