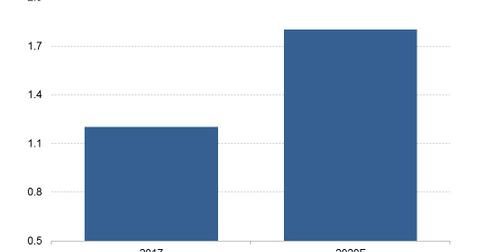 IPO Disclosure Issue Costs Alibaba $250 Million
By Neha Gupta

Updated
Paying for lack of disclosure
Alibaba (BABA) will pay $250 million to settle a lawsuit tied to its 2014 IPO. Some shareholders accused Alibaba of failing to tell them everything about its struggles with counterfeiting before its public listing. Alibaba didn't admit to any wrongdoing but decided to settle to put the dispute behind it.
Last year, Facebook (FB) also agreed to pay $35 million to settle a lawsuit in which some shareholders accused it of hiding concerns about its growth ahead of its 2012 IPO. Snap (SNAP) has also faced a probe over its 2017 IPO, according to a TechCrunch report.
Counterfeiting, which triggered the Alibaba lawsuit, is currently one of the major challenges digital marketplace operators are struggling with. For the first time, Amazon (AMZN) cited counterfeiting as a major risk to its business in a regulatory filing this year.
Article continues below advertisement
The cost of counterfeit trade
Counterfeit trade is a huge drain on genuine brands, putting pressure on companies such as Alibaba and Amazon to stop such practices on their marketplaces. According to estimates by Research and Markets, trading in counterfeit goods reached $1.2 trillion in 2017, and it could reach $1.8 trillion by 2020 if the problem isn't controlled.
For companies such as Alibaba and Amazon, counterfeiting not only poses a risk to corporate image but also could land them in court if the affected companies sue them for brand forgery. eBay (EBAY), another e-commerce major grappling with the risk of counterfeiting, has recently stepped up its efforts to fight the problem. The company has launched programs via which certain product listings undergo authenticity tests.