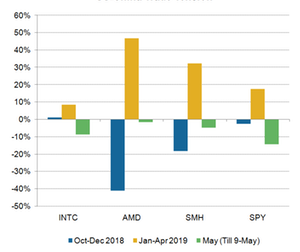 Intel: Macro Environment Could Hurt Its 2021 Outlook
By Puja Tayal

Updated
Intel's 2021 outlook 
At Intel's (INTC) 2019 Investor Meeting, CEO Bob Swan gave an anemic growth outlook for the next three years. The company is catching up on manufacturing technology. The catching up will likely result in low-single-digit revenue growth, a lower gross margin, and a stable operating margin between 2019 and 2021. The three-year outlook assumes that the macro environment remains stable. However, with the US-China (FXI) trade war reignited, things look bleak for the rest of 2019. In light of the current macro environment, Intel's outlook looks optimistic considering the company's own problems.
Article continues below advertisement
New round of import tariffs
On May 10, the US increased tariffs from 10% to 25% on $200 billion worth of Chinese imports. The imports include semiconductor components used in the data center and consumer gadgets. The 10% tariff that was imposed in the second half of 2018 caused a slowdown in China's demand. The tariffs pulled down semiconductor companies' fourth-quarter revenues, which created a large inventory in the channel.
Many chip companies' stocks, including Intel, rose in 2019 due to the anticipation of a recovery in semiconductor demand in the second half of the year. However, predicting the second-half rebound is difficult due to the latest import tariffs.
Earlier, Intel expected data center customers to absorb the excess inventory and return to normal buying in the second half. Now, the company expects data center revenues to fall for the entire year as companies reduce their data center spending amid greater economic uncertainty.
Advanced Micro Devices 
The data center demand will eventually revive as the trade war eases. However, Advanced Micro Devices poses a longer-term threat for Intel. Intel is launching its second-generation Rome server processors and securing design wins for a supercomputer. Until now, Intel commanded more than a 99% share of the server processor market. Advanced Micro Devices will likely take away some share from Intel with its new processors.
Some analysts downgraded Intel because of the above macro, competitive, and technology headwinds.