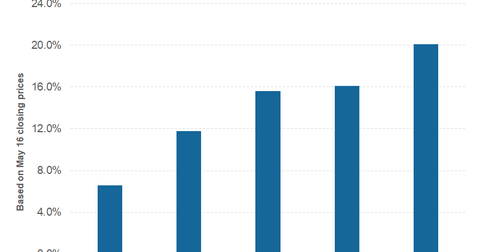 Huawei Isn't the First Time Trump Has Declared National Emergency
By Mohit Oberoi, CFA

Updated
Huawei
Donald Trump has invoked the International Emergency Economic Powers Act, the National Emergencies Act, and section 301 of the title 3, United States Code to bar Huawei from doing business with US companies. Huawei has been a flashpoint in US-China relations. The US has warned its allies against using Huawei equipment for 5G rollout, citing spying threats from China. Huawei's CFO was also arrested in Canada for allegedly evading US sanctions on Iran.
Article continues below advertisement
This is not the first time that President Trump has used rarely used laws. Earlier this year, President Trump announced a national emergency to help garner funds for the wall on the US-Mexico border. In 2017, the Department of Commerce self-initiated a probe into aluminum alloy sheet imports from China through a rarely used provision.
Section 232 tariffs
In 2016, the Department of Commerce initiated two separate probes into US steel and aluminum imports under Section 232 of the Trade Expansion Act of 1962. The Department of Commerce found that steel and aluminum imports are a threat to US national security and recommended tariffs. Last year, Trump acted on the report and imposed a 25% tariff on steel and a 10% tariff on US aluminum imports.
In a reprieve to markets, Trump has delayed action on the Section 232 automotive probe. While US steel companies like U.S. Steel (X) and AK Steel (AKS) supported Section 232 tariffs, automakers like Ford (F) and General Motors (GM) have been apprehensive over the Section 232 probe.
Meanwhile, after Monday's sell-off, US markets have recouped some of their losses. However, the SPDR S&P 500 ETF (SPY) is still down 2.1% for the month, although it's up 15.6% year-to-date.