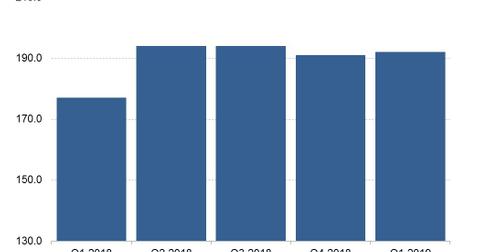 How Yelp and Facebook's Advertiser Bases Compare
By Neha Gupta

Updated
192,000 advertisers versus 7.0 million advertisers
In Yelp's (YELP) pursuit of advertising revenue, Facebook (FB) is one of the powerful forces the company is battling. Facebook and Google (GOOGL) have a tight grip on America's digital advertising market. In 2018, Facebook and Google alone held 60% of the digital advertising market in the United States, eMarketer data show.
At the moment, the advertiser bases of Yelp and Facebook seem to be worlds apart. Yelp exited the first quarter with 192,000 active advertisers on its platform compared to more than 7.0 million advertisers across Facebook's platforms, which include Instagram and Messenger. Baidu (BIDU) finished 2018 with 529,000 advertisers on its platform. Google, Twitter (TWTR), and Snap (SNAP) currently do not update investors on the size of their advertiser bases.
Article continues below advertisement
Yelp decided not to tie advertisers to long contracts
A few years ago, Yelp decided to take a new approach toward growing its advertiser base and its advertising revenue, which contributes the vast majority of its revenue. The company dropped the requirement for advertisers to commit to long contracts, thereby creating an incentive for advertisers, particularly small businesses, to try out its platform. This strategy has been a breakthrough for Yelp, with the company stating in a recent investor briefing document that the 6.0% year-over-year increase in its advertising revenue in the first quarter was in part a result of its ditching long contracts in its advertising business.
Yelp, which operates a platform where people can come to discover local businesses, mostly targets local advertisers. The company says the revenue opportunity in the local advertising market is $150 billion.