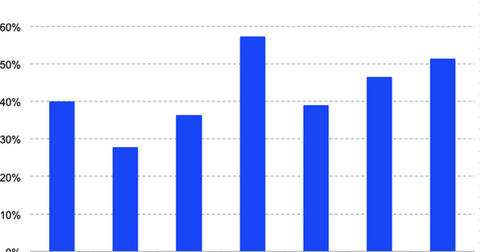 How Roku Is Planning to Further Grow Its Ad Revenue
By Sanmit Amin

Updated
Roku's revenue from ads has been surging
Streaming device maker Roku (ROKU) has seen stronger growth in its ad and licensing business than in its hardware business in recent quarters. Most of the company's revenue comes from the former.
In fact, 64.9% of its revenue came from its ad and licensing business during the first quarter of 2019 compared to 55.0% in the same quarter last year.
Article continues below advertisement
Roku launched a new ad tool to attract advertisers to OTT
Roku is doubling down on its ad business. On May 22, the company launched a new tool that's intended to attract more advertisers to its platform.
The company launched the Activision Insights tool, which uses data from Roku's users to allow advertisers to know their reach with traditional pay-TV and over-the-top audiences.
Roku pointed out that 86% of viewers on its platform between 18 and 49 who saw a Baskin-Robbins advertisement didn't see that ad on regular TV. Also, 81% of viewers between 25 and 54 who saw a RE/MAX ad on its platform didn't see the ad on regular TV.
The company generated $206.6 million in revenue during the first quarter of 2019, up 51.3% year-over-year, and it's on course to reach its goal of $1 billion in revenue this year.
Roku's fantastic growth saw its stock hit an all-time high of $89.35 on May 22. The stock is up a whopping 191% year-to-date.