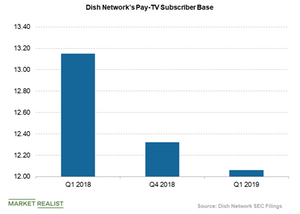 How Is AT&T's Carriage Fee Blackout Issue Hurting Dish Network?
By Sophia Nicholson

Updated
Carriage fee dispute
Dish Network (DISH) has recently been involved in carriage fee disputes with Univision and AT&T (T), which has majorly hurt its subscriber growth as well as its churn rate in the past few months. During the first quarter of 2019, HBO and Univision accounted for a little less than half of Dish's total net loss of 259,000 pay-TV subscribers.
Spanish-language TV network Univision removed some of its channels from DISH TV's and Sling TV's programming on June 30, 2018, after it clashed with Dish over higher fees. AT&T withdrew its HBO and Cinemax channels from Dish on October 31, 2018, due to a similar carriage contract issue.
Article continues below advertisement
HBO is a premium channel for Dish
Dish settled its dispute with Univision and agreed to a long-term carriage contract on March 26, following which all Univision channels immediately resumed for Dish and DishLATINO customers.
However, Dish's ongoing dispute with AT&T is a concern for it, as HBO is a premium channel, and the absence of HBO content for five months has led to huge subscriber losses for the company. Dish subscribers likely wanted to watch the final season of Game of Thrones, which started on April 14. Though Dish told its subscribers to download the online version of HBO, the $15-per-month HBO Now, to watch Game of Thrones, many Dish customers in rural areas had Internet connections that were too slow for streaming.
Clashes between Dish and AT&T
Dish Network has been trying to get AT&T's HBO and Cinemax channels back on its platform, but neither party is agreeing to the terms. According to Dish CEO Erik Carlson, AT&T wants all Dish subscribers to pay for HBO even if they don't want the network. Dish's management reportedly believes that AT&T is being anticompetitive and is knowingly withholding the premium channel, as AT&T's satellite service, DIRECTV, is a direct competitor. However, according to HBO, Dish is providing AT&T with unreasonable terms.