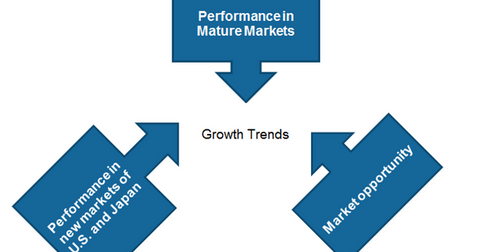 How Is Amicus Therapeutics' Galafold Placed in the First Quarter?
By Margaret Patrick

Updated
Performance in the first quarter
In the first quarter, Amicus Therapeutics (FOLD) reported 150 net new patients using Galafold therapy, meaning the total number of patients using this drug exceeds 800.
Article continues below advertisement
Performance by markets
According to the first-quarter earnings conference call, in EU 5 and other mature markets, the drug is reporting demand from both treatment-naïve Fabry disease patients as well as from those who are switching from ERT (enzyme replacement therapy). Since launching at the end of April 2019, there have been more than 200 prescriptions of Galafold written by more than 90 prescribers in the US market. Amicus Therapeutics managed to report higher-than-anticipated patient demand for Galafold in Japan in the first quarter.
Galafold currently accounts for almost 18% of the global share of the treated amenable Fabry disease patients, which includes mature markets such as the EU and new markets such as the US and Japan. The compliance and adherence rate for this drug is more than 90% globally.
Fiscal 2019 revenue trends
Amicus Therapeutics doesn't expect linear revenue growth for Galafold on a quarter-over-quarter basis. However, the company has forecasted the revenue to double YoY, and it expects to treat more than 1,000 Fabry disease patients with the drug in fiscal 2019. The company expects the majority of its revenues to be from ex-US markets and anticipates a modestly negative revenue impact due to foreign exchange in fiscal 2019. The company has also forecasted for global average gross to a net discount of 15% to 20% for Galafold in fiscal 2019.
Market opportunity
Amicus Therapeutics expects Galafold to earn up to $500 million by the of 2023 and target a market opportunity worth more than $1.0 billion by 2028. According to an investor presentation, in 2017, the drug's TAPP (total addressable patient pool) involved 2,000–3,000 individuals in EU and ROW (rest of world) markets. The drug's TAPP expanded to 3,800–5,500 individuals in fiscal 2018 when Galafold was launched in the US and Japan. With the disease diagnosis rates remaining stable, the company expects Galafold TAPP to reach 4,200–6,000 by 2028. However, in case of improved diagnosis rates, the drug's TAPP can extend to 4,700–6,750 in fiscal 2028.