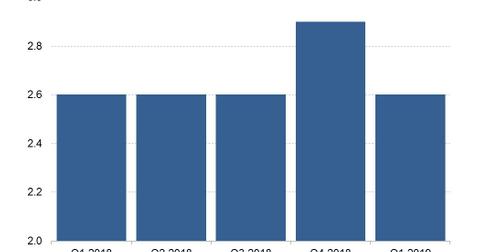 How AI Is Powering eBay's Export Business
By Ruchi Gupta

Updated
Buyers able to find products more easily
eBay's (EBAY) decision to leverage the power of artificial intelligence has been a boon for its export business. In 2014, eBay began rolling out AI-driven language translation for product listings on its marketplace. Now researchers say that the AI language translation has helped boost eBay's sales to countries outside the United States by more than 10%. For example, eBay sales to Latin America increased around 11% after the company added support for AI-powered translation to Spanish, a study cited by the Verge shows.
The sales boost for eBay after implementing the AI language translation is thought to stem from customers in non-English speaking countries being able to find the items they are looking for more easily on eBay's marketplace thanks to more accurate translations.
Article continues below advertisement
Unlocking potential by overcoming language barriers
If this study is anything to go by, it appears that eBay could greatly unlock its global e-commerce potential by helping buyers and sellers overcome language barriers. E-commerce competition is headed overseas as providers pursue new growth opportunities. In recent weeks, Alibaba (BABA) and Amazon (AMZN) have taken steps to expand their export businesses. Alibaba, for instance, now allows non-Chinese merchants to sell on its AliExpress marketplace, which for years was dedicated to serving Chinese businesses looking for markets for their products abroad. Amazon has announced it will start selling Indian products on its Middle East marketplace, to take advantage of the large number of Indian migrants in the region.
eBay lags in revenue growth
eBay's revenue increased 2.0% YoY to $2.6 billion in the first quarter, the slowest growth among its major competitors. Revenue increased 51% at Alibaba, 50% at Shopify (SHOP), 40.1% at Etsy (ETSY), and 20.9% at JD.com (JD) in the first quarter. Amazon recorded revenue growth of 17% YoY in the first quarter.