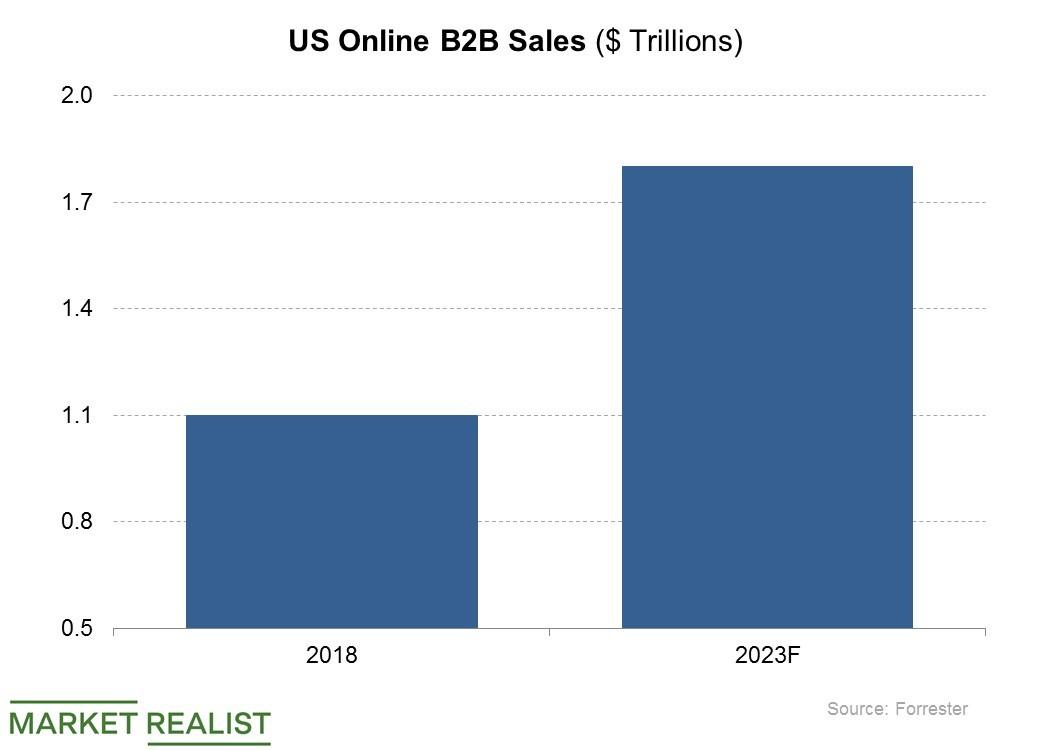 Here's What Shopify's Purchase of Handshake Could Mean for Amazon
By Neha Gupta

May. 31 2019, Published 10:10 a.m. ET
Online B2B sales in the United States reach $1.8 trillion
Shopify (SHOP) has acquired Handshake, a New York–based startup that provides e-commerce solutions aimed at businesses that deal in the wholesale trade of goods, according to a report from TechCrunch.
The addition of Handshake will help expand Shopify's B2B (business-to-business) operations and will generally see the company broaden its participation in the e-commerce economy. At the moment, Shopify's e-commerce operation is mostly business-to-consumer. Shopify's expansion in the B2B space would mean more competition for the likes of Alibaba (BABA), Amazon (AMZN), and Walmart (WMT) given that they also target this market segment. Alibaba, Amazon, and Walmart recorded revenue rises of 51%, 17%, and 1.0% year-over-year, respectively, in their most recent quarters.
Article continues below advertisement
B2B is a booming e-commerce segment, which may explain why Shopify is keen to expand in the space. The B2B e-commerce market in the United States alone was valued at $1.1 trillion in 2018, according to Forrester estimates. By 2023, the B2B e-commerce market in the United States is projected to reach $1.8 trillion, at which time it will account for 17% of all B2B sales in the country compared to 12% in 2018.
Square handles payments for Handshake clients
Amazon, Alibaba, and Walmart aren't the only companies that may be affected by Shopify's purchase of Handshake to expand its B2B platform. Last year, Handshake tapped Square (SQ) as its payment partner. The partnership landed Square the role of processing credit card transactions for manufacturers and distributors using the Handshake platform for wholesale trade in merchandise. Square is one of Shopify's rivals. It remains to be seen how Shopify's takeover of Handshake could affect Handshake's relationship with Square.