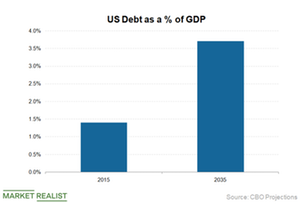 Gundlach: US Growth Has Been Dependent on Debt
By Anuradha Garg

Updated
US growth dependent on debt
Jeffrey Gundlach's DoubleLine Capital held a webcast with investors on May 14. Gundlach has been quite vocal about the increasing debt in the US system and the risks it poses. During the webcast, he once again highlighted this concern. He said that US growth appears to be based "exclusively" on government, corporate, and mortgage debt. As reported by Reuters, he also said, "Nominal GDP growth over the past five years would have been negative if U.S. public debt had not increased." In the last five years, while nominal GDP grew by 4.3%, the public debt grew by 4.7%, which was higher than GDP.
Article continues below advertisement
Debt-fueled growth can't be sustained
But he thinks this increase in GDP on the basis of the increase in debt cannot continue forever, as now it costs several dollars of debt to create one dollar of GDP. Moreover, debt entails interest expenses. The soaring US debt interest expense as a percentage of GDP is also a cause of concern.
GDP to disappoint
He also said that nominal GDP has been less impressive than real GDP mainly due to the drop in the GDP deflator. Thus, he thinks that in the second quarter, real GDP will be much more disappointing as prices rebound.
Due to the perceived strength of the US economy in 2019, the stock markets have also been on a tear after a dismal fourth quarter. YTD as of May 16, the S&P 500 Index (SPY), the Dow Jones Industrial Average Index (DIA), and the NASDAQ Composite Index (QQQ) have risen 15.1%, 11.1%, and 19.9%, respectively. If the economic indicators and GDP start disappointing investors, we could see a simultaneous weakness in stock markets (VTI) as well.