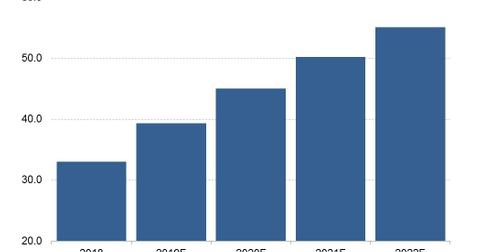 Following the Money: Viacom Sells Show Formats to Comcast
By Ruchi Gupta

Updated
Viacom's recent sale
Viacom (VIAB) recently sold some of its show formats to Comcast (CMCSA), according to a report by Variety. The financial terms of the transaction weren't reported, but the deal seems to show that Viacom has more ways to make money from its media assets than some investors may have been aware of.
Cord cutting, which is shrinking the traditional pay-TV market, has forced pay-TV companies to try to be innovative to at least survive the changing TV business landscape. Viacom has responded to cord cutting in a number of ways. In one instance, the company is producing shows for online video services, which are the ones actually benefiting from cord cutting. Netflix (NFLX), which serves ~150 million subscribers globally, and Facebook (FB), which reaches 2.4 billion people through its flagship social network, are some of the digital video providers purchasing shows from Viacom. Deals with these digital video providers have opened an avenue for Viacom to squeeze more cash from its old shows.
Article continues below advertisement
Americans are cutting the pay-TV cord
Viacom's other response to cord cutting takes the form of the company building its own digital video platforms through which it distributes its shows and monetizes them through advertising. This year, the company bought Pluto TV, a digital platform for ad-supported videos.
Viacom's sale of its show formats to Comcast showcases another avenue via which it can make money in the era of cord cutting. According to eMarketer, Americans will continue to cut the cord, with the number of Americans who have abandoned traditional pay-TV subscriptions forecast to rise to 50.2 million by 2021 from less than 25 million in 2017. As the traditional pay-TV market shrinks, the Walt Disney Company (DIS) and Comcast are preparing to launch their online video services in an attempt to follow the money.