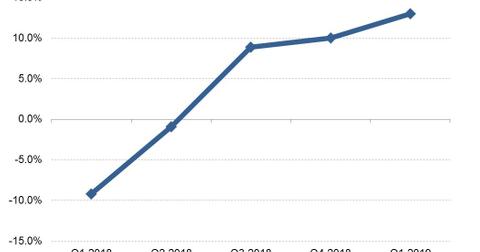 Ericsson Insists It Needs No Trump Leverage to Topple Huawei
By Ruchi Gupta

Updated
Huawei in trouble in the United States
The Trump administration seems to have declared war on Huawei, the Chinese company that dominates the global market for telecommunications equipment. Although a move this month by President Donald Trump to blacklist Huawei as a national security risk to the United States could reduce competition for Huawei's rivals, such as Ericsson (ERIC) and Nokia (NOK), in the country, Ericsson doesn't want to be viewed as warming up to capitalizing on its rival's political difficulties.
Article continues below advertisement
In an interview with CNBC shortly after the Trump administration blacklisted Huawei, Ericsson CEO Börje Ekholm suggested that the exclusion of Huawei didn't eliminate the competition for the company in the United States. According to the executive, there's still plenty of competition against Ericsson given that Nokia and Samsung (SSNLF) are also contesting for 5G contracts in the United States and other markets.
Ericsson's revenue rose 13% year-over-year to ~$5.3 billion in the first quarter.
American companies shun Huawei
Back in March, Ericsson said it had yet to see an increase in contract wins stemming from America's global campaign to exclude Huawei technology from being used in developing 5G networks in the Western world, according to a Reuters report.
America's anti-Huawei campaign is so strong that Google (GOOGL) recently decided to scale back is business dealings with the company to avoid the risk of running afoul with American regulators. On their part, T-Mobile (TMUS) and Sprint (S) committed to shunning Huawei products in the building of their 5G networks in an apparent attempt to persuade US regulators to approve their proposed merger agreement, according to a report by Reuters.