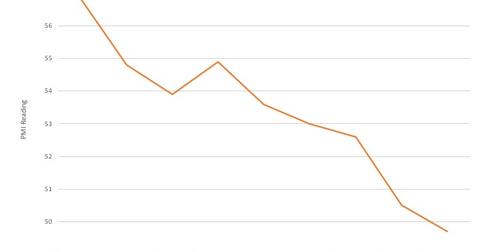 April's PMI Falls in China and UK, Contraction in Canada
By Mike Sonnenberg

Updated
China (FXI)
Two PMI measures, the Caixin/Markit (INFO) PMI and the index released by the National Bureau of Statistics or NBS, showed slowing growth in China's manufacturing sector. The former measure fell to 50.2 in April against 50.8 in March and also came in below analyst projections. The NBS PMI fell to 50.1 in April from 50.5 in March, missing analysts' expectation of 50.5. The fall takes both PMIs closer to 50, which is the border between expansion and contraction.
Article continues below advertisement
Canada (EWC)
The IHS Markit Canada manufacturing PMI fell below 50 for the first time in over three years. The April PMI came in at 49.7, below March's 50.5 and the expectation of 51.5. This figure reflects a slowdown in Canada's manufacturing sector. The output index was below 50 for the first time in over two years, new orders and new export orders declined, and inventories were down. The employment index fell below 50, indicating job losses in the manufacturing sector.
The UK (EWU)
At 53.1, the UK manufacturing PMI remained comfortably above 50 in April. However, it fell from the previous reading of 55.1. The stockpiles factories built in anticipation of Brexit reduced as the deadline for Brexit was postponed to October 31. Export orders fell to their lowest level in the last nine months. Manufacturing jobs declined in April. Overall business optimism improved as manufacturers got more time to plan for the post-Brexit world and the government took more time to make a deal with the European Union.