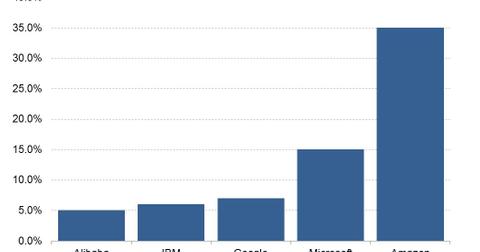 Alibaba Is Plotting Cloud Dominance
By Neha Gupta

Updated
Alibaba takes cloud market share from Amazon in Asia
Alibaba (BABA) has taken the lead in Asia's cloud computing market, and it now has its sights set on a global takeover. According to Gartner, Alibaba tightened its grip on the Asian cloud market in 2018, with its share of the market growing to 19.6% from 14.9% in 2017.
Alibaba's cloud gains in Asia came at the expense of its competitor Amazon (AMZN), whose shares of the market dipped to 11% in 2018 from 11.2% in the previous year. Microsoft (MSFT) finished 2018 with an 8.0% share of the cloud market in Asia, representing a gain of 1.0% from 2017.
Article continues below advertisement
Expanding cloud capacity and reducing business risk
Globally, though, Alibaba currently ranks far behind Amazon and Microsoft. According to Synergy Research data, Alibaba finished the first quarter holding a ~5.0% share of the global cloud market compared to Amazon's ~35% share, Microsoft's 15% share, Google's (GOOGL) 7.0% share, and IBM's (IBM) 6.0% share.
Alibaba is keen to become the world's largest cloud company. It continues to invest in building its cloud business, particularly by adding more capacity to meet the growing demand for cloud services. To get over the regulatory challenges related to data storage and minimize the risks to its cloud business, Alibaba is planting data centers in countries that require local data storage. The company has set up data centers in India, Malaysia, and Indonesia.