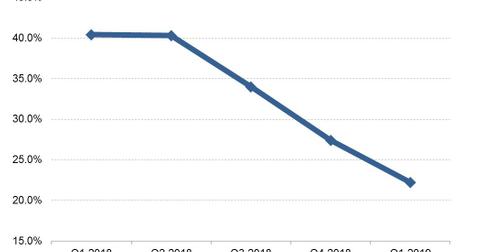 Why Netflix Executives Aren't Losing Sleep over Apple and Disney
By Neha Gupta

Updated
Apple Plus and Disney Plus coming
Apple and Walt Disney (DIS) recently unveiled their new subscription video services, which will compete with Netflix for customers and revenue in the video streaming market. The Apple service is called Apple TV Plus, which the company said is coming in the fall and will feature exclusive original shows, movies, and documentaries. Disney's service is called Disney Plus and is scheduled to launch on November 12 at a price of almost half of what Netflix charges for its standard plan. In addition to launching a competing service, Disney is also pulling its shows and movies from Netflix to offer them on its own service.
Article continues below advertisement
Netflix thinks the field is large enough
Can Netflix survive competition from Apple and Disney? This question is on the minds of many investors, particularly considering that Apple and Disney are both well-known brands and deep-pocket companies that can mobilize significant resources to enable them to gain market share rapidly where they see a compelling opportunity. But Netflix executives are not losing sleep because of the expected competition from Apple and Disney. In a letter to investors this month, Netflix wrote that it doesn't anticipate the entry of Apple and Disney into the subscription video market to materially affect the company's growth. According to Netflix, the subscription video market is big enough to accommodate multiple successful players.
Netflix's revenue rose 22%
Besides Apple (AAPL) and Disney, Google (GOOGL), Facebook (FB), and Twitter (TWTR) are also making an aggressive video push, presenting more competition to Netflix for subscribers. Google has been adding more channels to its Internet television service called YouTube TV and ordering original shows for its YouTube Premium service. Facebook and Twitter run ad-supported video services that compete with Netflix for viewers.
Netflix's revenue rose 22.2% year-over-year to $4.5 billion in the first quarter.