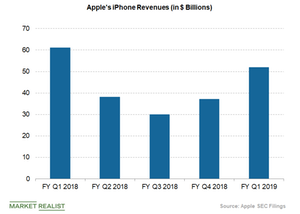 Why Apple Settled Dispute despite Concerns with Qualcomm
By Sophia Nicholson

Apr. 18 2019, Updated 3:41 p.m. ET
Apple's concerns with Qualcomm
Qualcomm (QCOM) was a major supplier of chips to Apple's (AAPL) smartphones until the release of the iPhone 7 in September 2016. However, the two parted ways last year when Apple replaced Qualcomm and agreed to buy 4G modem chips from rival Intel (INTC) for its iPhone models amid a royalty and patent battle with Qualcomm.
Apple has been accusing Qualcomm since January 2017 for overcharging it for essential patents, patent infringements, and misusing its dominant position in the smartphone modem supplier market. Qualcomm was also reportedly fined for more than $1 billion in Europe for paying Apple to use its mobile chips over competitors' chips. Qualcomm was also fined for indulging in anti-competitive practices to extract patent royalties for its chips.
Article continues below advertisement
Apple-Qualcomm settlement
On April 16, Apple made a surprise settlement with Qualcomm and dropped all litigations against each other. The companies also reached a six-year global patent licensing agreement, which can be extended for another two years. Furthermore, Apple is likely to buy Qualcomm modems once again for its upcoming 5G smartphones, as Intel intends to back out from supplying 5G modems in 2020.
Though Apple reportedly had an option to choose China's (MCHI) (FXI) Huawei as its 5G chip supplier, it did not, as Huawei had some political and security issues. Last year, Apple had also planned to make its own chips, but then, in that case, it would have likely taken years to release its 5G smartphones. This scenario also would have meant that Apple would be significantly behind Alphabet's (GOOGL) Google and South-Korea-based electronics giant Samsung (SSNLF), which are soon going to release their 5G devices. Therefore, Apple had to settle disputes with Qualcomm and should soon resume buying chips from Qualcomm.
Apple's iPhone revenues
Apple's iPhones contribute the most to the company's revenues. However, recently, Apple has been grappling with soft iPhone sales. Sales declined around 15% YoY in the first quarter of fiscal 2019, which in turn led to a 4.5% decline in total revenues.