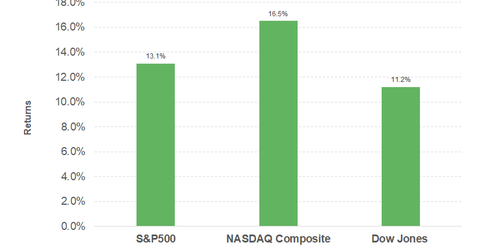 What Investors Should Do before Q1 Earnings Season Kicks Off
By Jitendra Parashar

Apr. 3 2019, Published 7:06 a.m. ET
The broader market
After a massive sell-off in the fourth quarter of 2018, the broader market (SPY) saw a sharp recovery in the first quarter. The S&P 500 Index posted its highest first-quarter gains since 1998, making it the index's best first quarter in two decades. In the quarter ended March 2019, the S&P 500 Index, the NASDAQ composite index, and the Dow Jones industrial average rose by 13.1%, 16.5%, and 11.2%, respectively. By comparison, large US companies (QQQ) (DJI) such as General Electric (GE), General Motors (GM), Ford (F), Apple (AAPL), Microsoft (MSFT), and Alphabet (GOOG) went up by 37.3%, 10.9%, 14.8%, 20.4%, 16.1%, and 12.6%, respectively.
WAKE UP WITH BAGELS & STOX, OUR NEW EMAIL THAT ENTERTAINS AND INFORMS YOU BEFORE THE DAY STARTS. SIGN UP HERE!
Article continues below advertisement
Q1 2019 earnings season warnings
In January and February, some research firms and analysts started warning investors of US companies' slowing earnings growth. Nick Raich, CEO of the Earnings Scout, told CNBC that he believes Q1 earnings will drop by 1%. Back then analysts' and experts' warnings about declining earnings estimates weren't so alarming as the broader market continued to rise in the first quarter.
However, things seem to have changed dramatically and at a very fast pace in the last few weeks. According to a CNBC report citing FactSet data, "Wall Street analysts are projecting a 3.9 percent earnings decline for S&P 500 firms in the first quarter, the first year-over-year drop since the second quarter of 2016."
What should investors do?
At a time when a large number of Wall Street analysts are turning negative about the upcoming earnings season, investors might need to revisit their investment portfolio. Goldman Sachs's chief US equity strategist, David Kostin, says that "as margin pressures mount, investors should focus on companies that have demonstrated the ability to maintain margins through pricing power."
Concerns about the global economic slowdown, the US-China trade war, and the possibility of a recession could continue to haunt investors in the near term. Sticking to companies with solid profitability as suggested by Goldman Sachs and well-diversified business segments could prove to be valuable advice for investors before the first quarter earnings season kicks off.