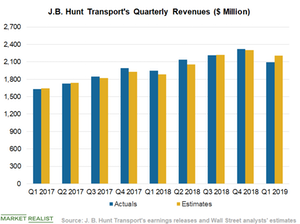 Volume Decline Slows Down J.B. Hunt's Revenue Growth in Q1
By Anirudha Bhagat

Updated
Revenues missed expectations
J.B. Hunt Transport Services (JBHT) reported first-quarter revenues of $2.09 billion, a YoY increase of 7.3%. Nonetheless, the company's top-line growth was significantly lower than its previous quarter's growth rate. Notably, J.B. Hunt had registered strong double-digit revenue growth in all the four quarters of 2018. Moreover, the trucking company's top-line results missed analysts' expectations of $2.21 billion.
Segment-wise performance
J.B. Hunt's JBI business segment contributed ~52% to its first-quarter total revenues. The segment reported a 2% YoY increase in revenues, reaching $1.09 billion. A 10% YoY surge in revenue per load more than offset the negative impact of a 7% decline in volumes. However, JBI's operating income plunged 10% YoY. Benefits from increased customer rates were more than offset by an increase in rail purchased transport costs, reduced network utilization, higher wages, a rise in equipment ownership and maintenance costs, and lower efficiency due to winter weather.
The company's DCS (Dedicated Contract Services) segment's revenues surged 22% YoY to $602 million (29% of total revenues), mainly driven by a 6% increase in revenue per truck per week (also known as productivity) and net addition of 1,644 revenue production trucks. Operating income grew 24% YoY due to increased productivity and new truck additions.
Revenues for its ICS (Integrated Capacity Solutions) segment increased 2% YoY to $301 million (14% of total revenues) primarily driven by a 15% rise in volumes, partially offset by a 12% decline in revenue per load. However, operating income decreased 22% YoY due to higher personnel costs, increased employee count, and increased technology spending.
The Truck segment (or JBT) revenue grew 10% YoY to $102 million (5% of total revenues), mainly driven by customer rate increases and 4% higher load counts. Operating income jumped 41% due to increased revenue per load and reduced equipment ownership costs.
Peers' expectations
Most transportation (IYT) companies plan to report their first-quarter results in the next few weeks. Analysts anticipate XPO Logistics (XPO) and C.H. Robinson Worldwide (CHRW) to post YoY first-quarter revenue growth of 1.6% and 1.7%, respectively. Peer Hub Group (HUBG) is projected to report a 13.5% YoY decline in first-quarter revenues.