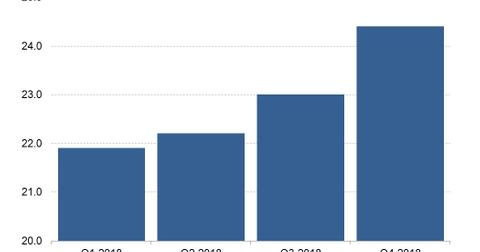 Verizon Has Launched a Smartphone Plan for Kids
By Ruchi Gupta

Updated
Verizon wants parents to have peace of mind
This month, Verizon (VZ) launched a special smartphone plan just for kids, describing it as a first from a major wireless provider. Verizon's Just Kids plan is available on the operator's 4G LTE network. It offers 5 GB of mobile Internet data and unlimited talk and text to 20 contacts. The Just Kids plan starts at $55 per month and includes Verizon's parental control service, which normally costs $10 per month when purchased separately.
Article continues below advertisement
With the parental control tools, parents can preapprove the contacts their children can call using the Just Kids plan. According to Verizon, kids are clamoring to get smartphones, but parents are concerned about giving their children phones for fear of exposing them to things they're not yet ready for. Verizon says that the Just Kids plan is designed to meet the needs of both parents and children.
Verizon's wireless revenue increased 2.7%
For a customer to purchase the Just Kids plan, Verizon requires a subscription to any of its three flagship unlimited wireless plans. In this way, the Just Kids plan looks like a single stone with which Verizon hopes to kill two birds: catering to the kids market and driving the uptake of its flagship unlimited plans.
Verizon's wireless revenue increased 2.7% year-over-year to $24.4 billion in the fourth quarter, contributing over 70% of the company's total revenue. Verizon made a profit of $2.1 billion in the fourth quarter. AT&T (T), T-Mobile (TMUS), and United States Cellular (USM) made profits of $4.9 billion, $640 million, and $21 million, respectively, in the fourth quarter. Sprint (S) saw a loss of $141 million in the fourth quarter.