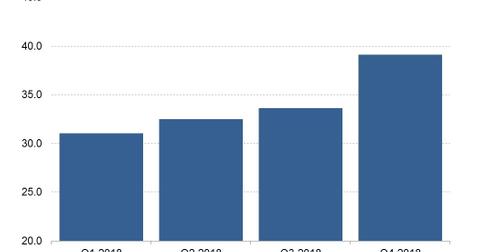 Thoughts of Breaking Up Google Lack Popular Support
By Ruchi Gupta

Updated
A total of 68% of Americans think the market should decide
The prospect of splitting up technology giants such as Google (GOOGL) to promote more competition in the sector isn't supported by the majority of Americans, a poll shows. Last month, US Senator Elizabeth Warren of Massachusetts proposed breaking up American technology giants as a measure to curb their influence and promote competitive markets.
Senator Warren is seeking the Democratic Party nomination for the 2020 presidential election.
Article continues below advertisement
According to a poll by NBC News and the Wall Street Journal, 50% of Americans disapprove of the idea of breaking up the country's technology giants. Some 47% of Americans support the idea. The poll also shows that 68% of Americans believe that the decision to split up the country's technology giants should be left to the free market rather than the government.
Breakup would target companies that make at least $25 billion per year
Senator Warren has proposed breaking up technology companies that generate at least $25 billion in annual global revenue per year. Google is one of the companies under the Alphabet corporate group. In the fourth quarter alone, Google generated over $39 billion in revenue.
Apple, Amazon (AMZN), Microsoft (MSFT), and Facebook (FB) generated revenues of $265.6 billion, $232.9 billion, $110.4 billion, and $55.8 billion, respectively, in their latest financial years. Twitter (TWTR) and Snap (SNAP) generated revenues of $3.0 billion and $1.2 billion, respectively, in 2018, placing them below Warren's breakup threshold.
Risk of Google losing its competitive edge
Google is Alphabet's largest and most profitable unit. Since Alphabet's other smaller businesses, known collectively as its Other Bets, are currently losing money, they look to Google to foot the bill. A divided Google could lose some of its competitive edge and contribute less to Alphabet's coffers.