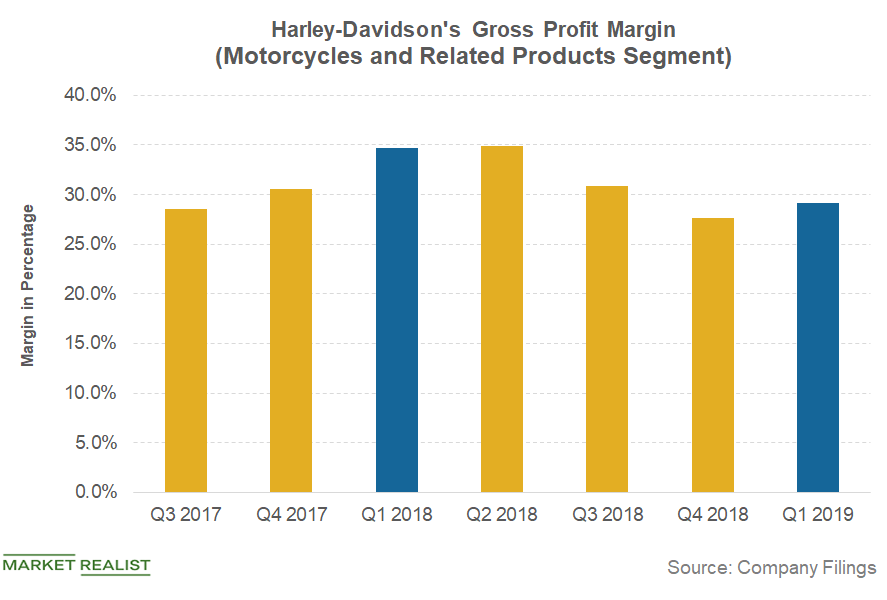 These Key Factors Hurt Harley-Davidson's Profitability in Q1 2019
By Jitendra Parashar

Apr. 24 2019, Updated 1:47 p.m. ET
Harley-Davidson's first-quarter profitability
In the first quarter, Harley-Davidson's (HOG) gross profit from the Motorcycles and Related Products segment stood at $347 million, ~26.7% lower than $474 million in the first quarter of 2018. With this, HOG's first-quarter gross margin from the segment came in at 29.1%, a significant contraction from its 34.7% gross margin a year ago.
Due to the nature of its business and its premium product line, Harley's profitability is typically much better than those of legacy car makers, including Ford Motor Company (F), General Motors (GM), and Toyota Motor (TM).
Article continues below advertisement
Key detractors
In the first quarter of 2019, lower sales volumes, higher raw materials prices, a negative product mix, higher manufacturing expenses, currency headwinds, and international market trade tariffs were the key factors that hurt Harley-Davidson's gross profits.
Lower sales volumes, a negative product mix, and incremental tariffs reduced HOG's gross profit by $41.4 million, $39.3 million, and $21.0 million, respectively, in the first quarter compared to the first quarter of 2018.
In the last couple of quarters, increased raw materials costs—especially of steel and aluminum—also hurt the profits of auto companies General Motors (GM), Ford Motor Company (F), and Fiat Chrysler Automobiles (FCAU).
Tariffs in Europe and China
Harley-Davidson mentioned in its first-quarter earnings report that incremental tariffs on its motorcycles imposed by both the European Union and China had affected its profitability in the quarter.
About a year ago, President Donald Trump's decision to increase import tariffs on steel and aluminum into the United States triggered trade tensions between the United States and the European Union. In response to President Trump's decision to raise tariffs on steel and aluminum, the European Union raised tariffs on Harley-Davidson's motorcycle imports.