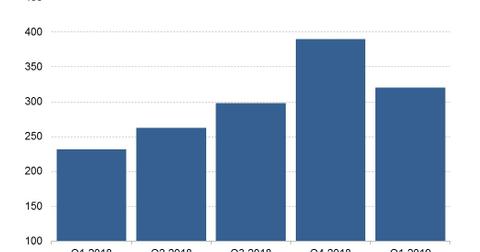 The Mystery in Snap's Advertising Business
By Neha Gupta

Updated
Snap has stopped breaking down its revenue by product
In recent quarters, Snap (SNAP) executives have talked a lot about how the company's shift to self-service advertising has had a huge positive impact on its advertising business and how the future looks bright for it as a result of the transition.
Executives have talked about improving advertising sales and aiming for more satisfied advertisers. However, Snap's advertising business remains a mystery in some ways. Unlike its peers Facebook (FB) and Twitter (TWTR), Snap doesn't disclose the size of its advertising business.
Article continues below advertisement
When its Spectacles hardware business started going down last year, Snap stopped breaking down its revenue by product as it used to. The last time the company clearly broke out its advertising sales was in the second quarter of 2018, when it reported advertising revenue of $260 million. Snap reported total revenue of $262 million in that quarter, meaning that its advertising business contributed 99% of its total revenue.
Facebook derived 99% of revenue from advertising
Snap generated revenue of $320 million in the first quarter of 2019, but it didn't disclose what its advertising business contributed. Facebook generated revenue of $15.1 billion in the first quarter, with its advertising business contributing 99% of the amount. Twitter's advertising business contributed 86% of its revenue in the first quarter, whereas Yandex (YNDX) derived 72% of its revenue from advertising in the same period. At Yelp (YELP) and Baidu (BIDU), which have yet to report their first-quarter earnings results, advertising contributed 96% and 78% of total revenue, respectively, in the fourth quarter.