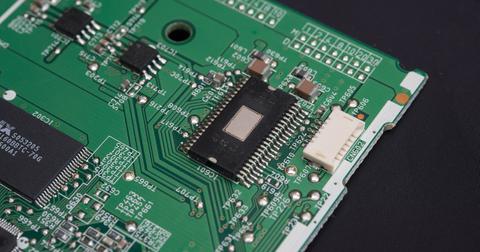 Texas Instruments Stock Falls 6% After Hours on Weak Guidance
By Puja Tayal

Updated
Texas Instruments stock falls
After the market closed on April 23, the world's largest analog chip maker, Texas Instruments (TXN), released its first-quarter earnings results. The stock rose 1.24% on April 23 as traders purchased it in anticipation of the company's impressive earnings results.
TXN rose 4.9% to $122.12 in early after-hours trading on the day, beating its all-time high of $118.48. The stock rose after its first-quarter revenue and earnings beat analysts' estimates. The stocks of other analog chip makers Analog Devices (ADI), Maxim Integrated (MXIM), and Microchip Technology (MCHP) also rose between 1.1% and 2.5% in early after-hours trading.
Ready to put your morning scrolling to use? Sign up for Bagels & Stox, our witty take on the top market and investment news straight to your inbox! Whether you're a serious investor or just want to be informed, Bagels & Stox will be your favorite email.
However, TXN fell more than it rose after the company reported weaker-than-expected second-quarter guidance. After rising 4.9%, TXN fell 5.9% in after-hours trading. The stocks of ADI, MXIM, and MCHP also fell 2.9%, 2%, and 1.9%, respectively, in after-hours trading.
In our TXN earnings preview on April 8, we stated that the company could report weaker-than-expected guidance, which could pull its stock down in the mid- to high single digits in the following two days. TXN is expected to fall in the mid-single digits on April 24.
Texas Instruments' guidance
TXN manufactures analog chips that convert real-world inputs, such as sounds and touch, into digital signals. These chips are used in all electronic devices that have an "on" switch. Its broad exposure to all end markets makes its earnings a barometer by which we can gauge the overall semiconductor demand environment.
On Texas Instruments' first-quarter earnings call, its chief financial officer, Rafael Lizardi, stated that this was the second straight quarter during which the company's YoY (year-over-year) revenue had fallen after ten quarters of YoY growth. He stated that this revenue trend signals that semiconductor demand is in a downtrend. Lizardi explained that the historical data show that an industry downturn lasts for at least four to five quarters before growth resumes, and this is just the second quarter of the downturn.
He said, "We're not trying to forecast the cycle, but simply offer some historical perspective." His statement came as TXN's guidance clashed with many chip companies' outlooks for a strong demand uptick in the second half of 2019.