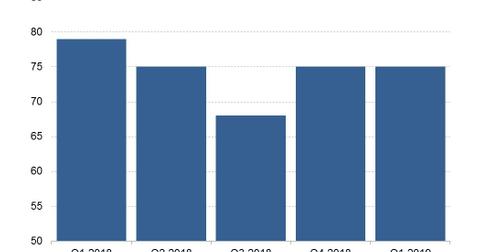 Snap Walks the Walk When It Comes to Marketing
By Neha Gupta

Updated
Snap taps industry veteran for lead marketing efforts
On its conference call to discuss its first-quarter earnings results on April 23, Snap (SNAP) discussed plans to make additional investments in areas such as marketing, content, engineering, and sales to support what executives have described as the company's long-term strategic objectives. Two days later, the company began walking the walk. On April 25, Snap created the new executive role of chief marketing officer and appointed Kenny Mitchell to the post. Mitchell will join Snap in June from McDonald's (MCD), where he led brand and consumer marketing efforts for the company's United States unit.
According to Snap, the chief marketing officer will spearhead its global marketing efforts. Therefore, Mitchell will be responsible for leading consumer and product marketing programs for Snap all around the world.
Article continues below advertisement
Most advertising money is spent outside the United States
Snap CEO Evan Spiegel noted that in addition to being a marketing veteran, Mitchell has a deep understanding of the company's products, meaning he will be a great fit for Snap as the company expands its business.
Snap is looking to expand more overseas to enlarge its potential in the advertising market. According to eMarketer data, $333.3 billion will be spent on digital advertising this year, and more than 60% of that amount will be spent outside the United States.
Snap spends 23% of its revenue on marketing
Snap spent $75 million on marketing programs in the first quarter, representing 23.4% of its revenue. Marketing costs accounted for 13% of revenue at Facebook (FB) and 26% of revenue at Twitter (TWTR) in the first quarter. Marketing and administrative costs accounted for 27.8% of revenue at Yandex (YNDX) in the first quarter.