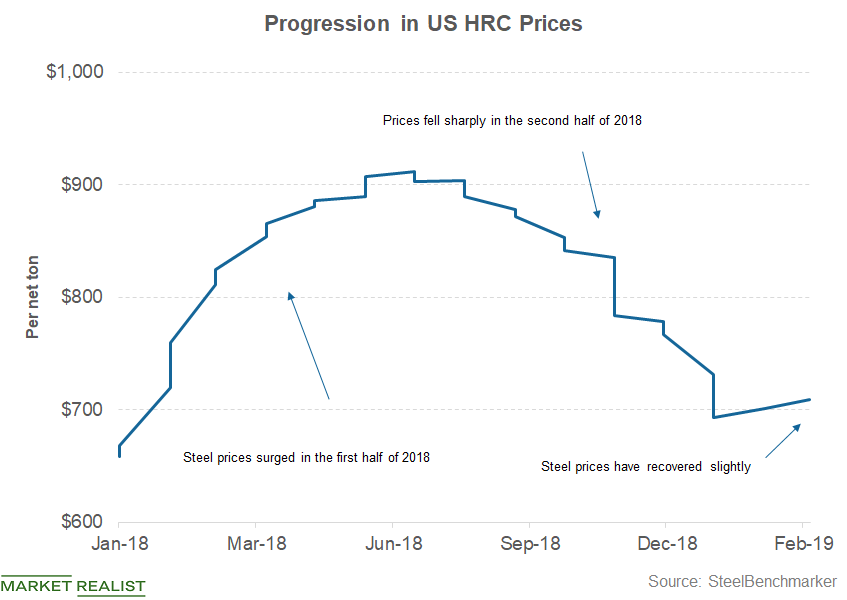 Section 232 Tariffs Could Be a Stumbling Block in USMCA
By Mohit Oberoi, CFA

Apr. 4 2019, Published 3:08 p.m. ET
Metal users
The Trump administration has imposed quotas on some countries for long-term exemption from the Section 232 tariffs. The administration is also trying to impose quotas on Canada and Mexico for granting them Section 232 exemptions. However, both Canada and Mexico have opposed any quota to get Section 232 exemption. Mexico has gone as far as saying it wouldn't ratify the USMCA unless the Section 232 tariffs were lifted.
Article continues below advertisement
Jean-Marc Germain, CEO of Constellium (CSTM), told reporters at a meeting of the U.S. Aluminum Association, "We know aluminum regularly crosses the border multiple times before reaching an end user as a finished product." He added, "Under a hard quota system, that metal could end up stuck at one side of the border after the quota has been filled."
Several companies have been seeking full exemption for Canada and Mexico, given the integrated supply chains in North America—especially in the automotive industry.
Steel industry
Meanwhile, the US steel industry has also upped the ante. It has asked the Trump administration not to grant exemptions without a quota. According to Reuters, U.S. Steel (X) CEO David Burritt told lawmakers at the Congressional Steel Caucus, "Now is not the time to blink" on steel tariffs. Burritt commented, "Section 232 must continue to be applied to all countries, especially the largest import sources, whether that's a tariff or a hard quota. Even our best allies can be conduits for foreign steel from China or elsewhere."
As the Trump administration moves forward on the USMCA, it faces the challenge of managing divergent expectations from US companies (SPY) while balancing them with Canada and Mexico's demands.