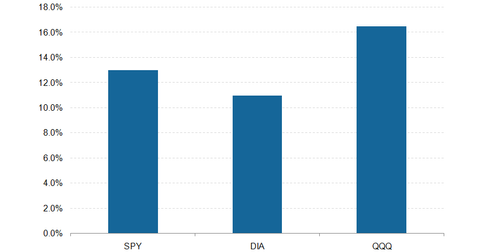 J.P. Morgan: Have the Markets Hit a Ceiling?
By Anuradha Garg

Updated
J.P. Morgan's S&P 500 target
J.P. Morgan (JPM) has the same target as Goldman Sachs for the S&P 500 (SPY) for the end of 2019 at 3,000. J.P. Morgan's EPS estimate for SPY is $173 in 2019, which is higher than $165 in 2018. J.P. Morgan based its prediction on the assumption that the trade deal will materialize between the US (DIA) (VTI) and China (FXI). If there isn't a trade deal, J.P. Morgan see more downside to the markets.
Article continues below advertisement
Near-term top
As reported by Bloomberg, in March, J.P. Morgan's US equity market strategist, Dubravko Lakos-Bujas, wrote that SPY's valuations are "less compelling" than they were at the beginning of 2019.
As reported by CNBC, J.P. Morgan's executive director, Adam Crisafulli, also thinks that the stock market rally might lose some steam as markets approach a near-term top.
Recession concerns
The U-turn from the Fed at the beginning of 2019 led to the optimism in the stock markets, which resulted in the current rally. Since the Fed turned increasingly dovish in its latest policy meeting in March, the markets got alarmed. Weaker manufacturing data from the Eurozone (HEDJ) (EZU) led to the inversion of part of the US Treasury yield (TLT) curve. Concerns about a potential recession have resurfaced.
Apple (AAPL) and NVIDIA (NVDA) have warned that China's slowdown is hurting their earnings. Advanced Micro Devices (AMD), Micron (MU), Amazon (AMZN), Netflix (NFLX), and Alphabet (GOOG) have also been impacted by the trade tensions between the two largest economies in the world.