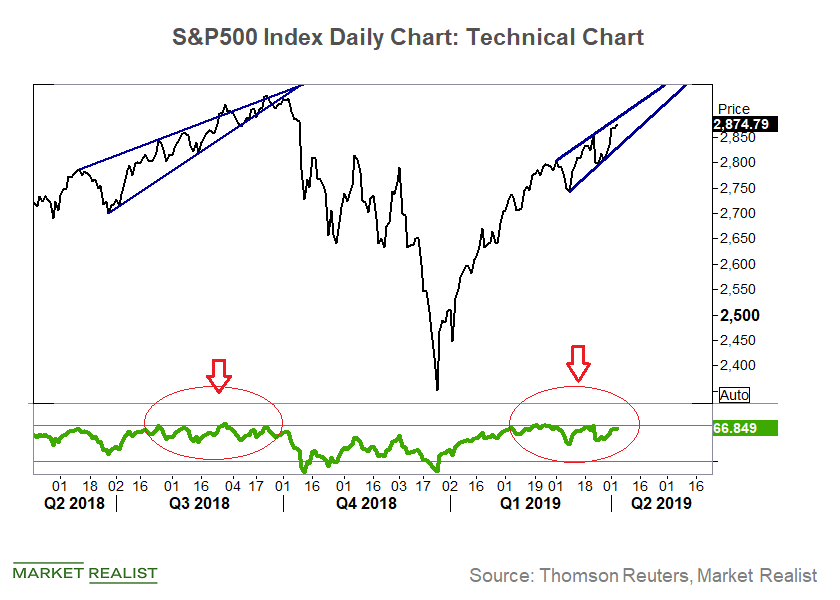 Is another Market Crash Like Q4 of 2018 around the Corner?
By Jitendra Parashar

Jul. 31 2019, Updated 5:20 p.m. ET
US markets
In the first quarter of 2019, US equities saw a sharp recovery after the massive sell-off in the previous quarter. In the quarter ended March 2019, the S&P 500 Index, NASDAQ Composite Index, and Dow Jones Industrial Average (DJI) rose 13.1%, 16.5%, and 11.2%, respectively. The S&P 500 Benchmark posted its best first-quarter performance of the last two decades. In the quarter that ended in December 2018, it fell 14.0%.
WAKE UP WITH BAGELS AND STOCKS, OUR NEW EMAIL THAT ENTERTAINS AND INFORMS YOU BEFORE THE DAY STARTS. SIGN UP HERE!
Article continues below advertisement
A steep cut in Wall Street's estimates
The first quarter of 2019 began on a terrible note for investors (QQQ) as many large US companies cut their near-to-medium-term growth outlooks. During the quarter, many Wall Street analysts also cut their future earnings growth estimates for companies (SPY) in the S&P 500.
A recent FactSet report suggested that, during the last quarter, Wall Street analysts dropped their first-quarter earnings estimates for S&P 500 companies by a significant 7.2%. The report pointed out that this was the steepest earnings estimate cut since the first quarter of 2016.
US markets sell-off
The technical chart of the S&P 500 Index shows a rising wedge pattern forming right now, as the chart above shows. In October 2018, a similar rising wedge pattern appeared on the index chart as we warned investors in Market Crash Coming? Today's Drop Could Be the Start.
Also, the 14-day RSI setup indicator shows a similar divergence from the index's recent upward movement in October 2018.
It's really difficult to predict the exact timing of a potential near-term market sell-off solely based on the technical chart as it requires a fundamental trigger. Nonetheless, the possibility remains open that the first-quarter earnings season might act as that fundamental trigger for a potential market crash.