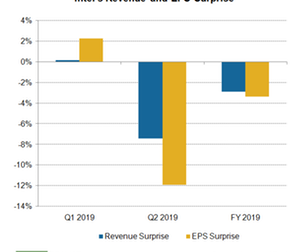 Intel Stock Falls More than 9% on Guidance Miss
By Puja Tayal

Updated
Intel's first-quarter earnings
Intel's (INTC) first-quarter revenue of $16.06 billion met investors' expectations as declines in its data-centric business were offset by growth in its PC-centric business.
The company's first-quarter non-GAAP (generally accepted accounting principles) EPS of $0.89 beat the consensus estimate of $0.87 by 2.3%. However, its weaker-than-expected guidance disappointed investors, sending its stock down more than 9% on April 26.
Article continues below advertisement
Intel's second-quarter guidance
For the second quarter, Intel expects its revenue to fall 8.2% YoY (year-over-year) to $15.6 billion, missing analysts' consensus estimate of $16.85 billion by 7.4%. This guidance marks Intel's lowest revenue in 11 quarters. The revenues of Intel's peers TSMC (TSM) and Texas Instruments (TXN) have already hit a two-year low.
On a YoY basis, Intel expects its second-quarter PC-centric revenue to fall in the high single digits to less than $8 billion, a level it last saw in the first quarter of 2017. This guidance is lower than analysts' estimate of $8.68 billion. Intel's second-quarter data center revenue guidance of $4.9 billion is lower than analysts' estimate of $5.58 billion.
Intel's second-quarter non-GAAP EPS guidance of $0.89 missed analysts' estimate of $1.01 by 11.9%.
Intel's full-year guidance
As a result of the weakness it's encountered, Intel has become more cautious in terms of its full-year outlook. It's lowered its 2019 revenue guidance by $2.5 billion from $71.5 billion to $69 billion, missing the consensus estimate of $71.04 billion by 2.9%. It's also lowered its 2019 non-GAAP EPS guidance from $4.60 to $4.35, missing the consensus estimate of $4.5 by 3.3%.
Intel expects demand to revive in the second half of the year, especially in the data center market, but analysts are skeptical about this growth. Even Texas Instruments has stated that the current semiconductor downturn has completed two quarters. Historical data show that a downturn lasts four to five quarters before demand revives, hinting that demand may remain weak throughout 2019. Amid this demand environment uncertainty, investors will be closely monitoring the second half for growth.