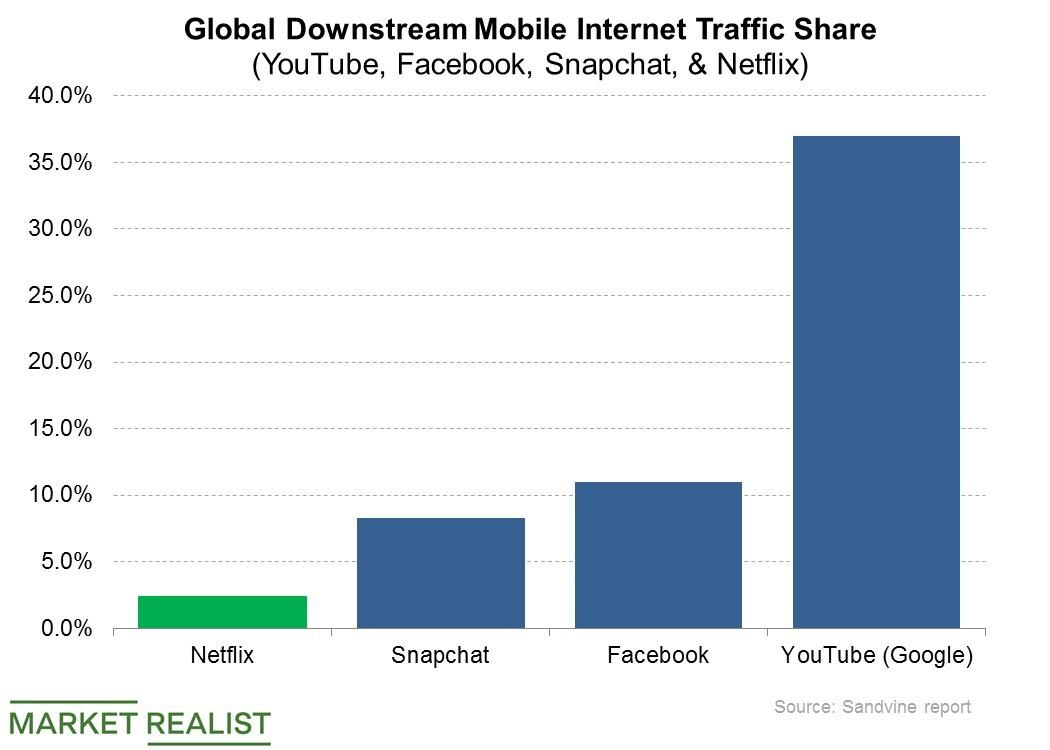 Inside Netflix's Huge Mobile Potential
By Neha Gupta

Jul. 31 2019, Updated 5:23 p.m. ET
Netflix accounts for only 2.4% of mobile traffic
In its 2019 mobile Internet traffic report released in February, network intelligence provider Sandvine showed that Netflix (NFLX) currently accounts for just 2.4% of the global downstream mobile Internet traffic, which shows Netflix has more room to grow in mobile than the likes of Google (GOOGL) and Facebook (FB). The company's management also pointed this out at the investor briefing this month.
Article continues below advertisement
During the first-quarter conference call, Netflix's chief content officer, Gregory Peters, talked about how the company has only captured a tiny piece of its mobile opportunity. The executive went on to show that mobile provides an important avenue for Netflix to attract new subscribers to its service and grow its customer base.
Bundling should help Netflix extend its mobile reach
According to Peters, Netflix's partnerships with mobile operators to bundle its service with their wireless plans and with device makers to preload their handsets with the Netflix app are some of the efforts the company is making to exploit its massive opportunity in mobile. T-Mobile (TMUS) is one of the American operators that bundles Netflix subscriptions with its wireless plan, giving Netflix exposure to tens of millions of customers.
YouTube captures the lion's share of mobile traffic
The Sandvine report cited above shows that Google's YouTube accounts for 37% of downstream mobile network traffic, way above Netflix's 2.4%. Facebook, Snapchat, and Instagram account for 11%, 8.3%, and 5.7% of global downstream mobile Internet traffic. Instagram is a Facebook property. It is a platform for sharing photos and videos and boasts more than 500 million daily users. Snapchat is also a photo/video sharing platform and is owned by Snap (SNAP).