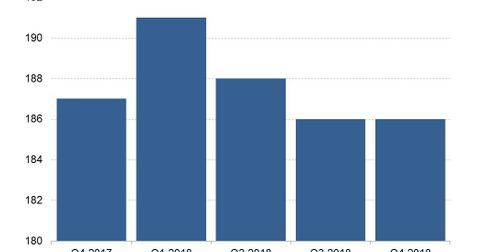 How Snap Wants to Beat Facebook in the Drug Advertising Market
By Neha Gupta

Updated
Drug advertising is a huge market
Snap (SNAP) is pursuing pharmaceutical companies to advertise on Snapchat, its social network used by some 186 million people worldwide. At a pharmaceutical conference attended by marketing executives from major drug companies such as Roche (RHHBY) and Amgen (AMGN) in February, a team of salespeople from Snap spoke about the opportunity for drug companies to market their products on digital platforms such as Snapchat, according to a CNBC report.
Article continues below advertisement
Pharmaceutical advertising is a huge market. In 2017, drug companies spent more than $6.0 billion on TV and digital ads, according to eMarketer estimates. At the moment, TV takes the lion's share of drug companies' ad expenditures, but it's the digital market that's growing rapidly. Drug companies' spending on digital ads totaled $2.5 billion in 2017 and is expected to exceed $3.1 billion this year.
WAKE UP WITH BAGELS & STOX, OUR NEW EMAIL THAT ENTERTAINS AND INFORMS YOU BEFORE THE DAY STARTS. SIGN UP HERE!
Snap is trying to capitalize on Facebook's weakness
Snap isn't alone in its pursuit of drug companies' marketing expenditures. Facebook (FB) is also wooing pharmaceutical companies to advertise on its platforms. It receives business from major drug companies such as Germany's Bayer.
But Snap is hoping to beat Facebook in this contest by presenting itself as a safer bet for drug companies that are mindful of their brand reputations. As Facebook and Google (GOOGL) have been steeped in scandals, ranging from privacy breaches to the spreading of objectionable content on their platforms, Snap's pitch to drug companies is that they can count on it to safeguard their brand integrity.
Fearing for their brand reputations, major companies such as the Walt Disney Company (DIS) and Nestlé stopped running ads on Google's YouTube after their commercials appeared next to pedophilic comments, the New York Times reported in February.