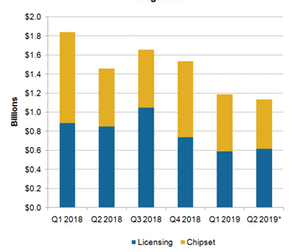 How Qualcomm Strengthened Its Position in Its Dispute with Apple
By Puja Tayal

Updated
What was at stake for Qualcomm?
The Apple-Qualcomm (AAPL) (QCOM) licensing dispute dates back to January 2017. With this lawsuit, Apple intended to pressure Qualcomm into changing its device-level licensing model to a component-level licensing model.
Apple constrained Qualcomm's financials by holding back billions of dollars' worth of licensing fees and taking away modem orders from the chip supplier.
Article continues below advertisement
The licensing lawsuit put Qualcomm's licensing business, from which it earns 64% of its operating income, at stake. Had Apple won, the chip supplier would have had to repay the licensing fees Apple claimed it had overpaid. Such a ruling could have encouraged other licensing customers to force Qualcomm to adopt component-level licensing at a critical point, with 5G technology just beginning to roll out. This development could have helped smartphone makers secure components at cheaper costs, but it would have negatively affected Qualcomm's future profit margins.
When Qualcomm was in the lead
However, Apple's strategy backfired in the last six to eight months as Qualcomm refused to supply modems for its iPhones. This made Intel (INTC) the sole modem supplier for Apple's iPhones. Apple was back to where it started, with a heavy dependence on one supplier—but in a slightly weaker position, as Qualcomm's modems were faster than Intel's.
Qualcomm also secured a ban on some iPhone models in Germany, China, and the United States, implying that Apple was guilty of violating some of Qualcomm's patents. Further wins by Qualcomm could have increased Apple's production costs, ruining Apple's core objective behind starting the lawsuit.
Intel's 5G modem delays put 2020 5G iPhones in jeopardy
An even bigger blow came in November 2018, when Intel delayed its 5G modem to the second half of 2019—too late for Apple to feature the former's 5G modem in its iPhones in 2020. FastCompany, citing a source with knowledge of the matter, stated that Intel's delay in its 5G modem had prompted Apple to look for other options.
If Apple fails to launch its 5G iPhones by 2020, when the technology is at its peak, it will fall behind the competition. This possibility likely prompted Apple to settle with Qualcomm, the only reliable 5G modem supplier that could meet its expectations in terms of quality and quantity. Investors knew that the odds were in Qualcomm's favor and sent the chip stock up 38% in the two days after the trial began.