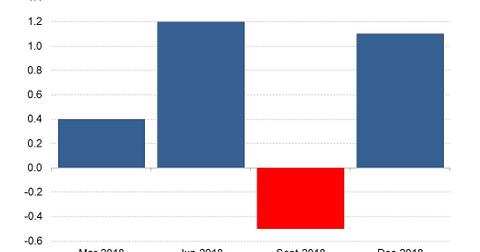 How Qualcomm and NXP Got on Opposing Sides in Europe
By Ruchi Gupta

Updated
Qualcomm and NXP split over 5G connectivity in vehicles
Qualcomm (QCOM) and NXP Semiconductors (NXPI) nearly merged their operations last year, as they seemed to share a lot in common about what is good for their future. But now the companies have taken opposing sides over a crucial regulatory matter in Europe. Qualcomm and NXP have clashed over what connectivity technology should power Internet-connected vehicles in Europe.
Qualcomm, Intel (INTC), Samsung (SSNLF), mobile operators, and some automakers want Europe to adopt 5G as the standard connectivity for Internet-connected vehicles in the region. But NXP has teamed up with automakers including Toyota Motor (TM), Renault, and Volvo, which favor WiFi-based connectivity in vehicles sold in Europe.
Article continues below advertisement
The European Commission, the executive arm of the European Union, is rooting for W-Fi technology favored by NXP and the larger automaker group, and it recently won the support of European lawmakers. The next step will be for the European Council of member states to weigh in on the Commission's draft rules for Wi-Fi connectivity in vehicles. Qualcomm and NXP will be lobbying against each other to get the council to back their favorite vehicle connectivity technology.
5G connectivity for vehicles would be a boon to Qualcomm
While Wi-Fi technology will primarily support vehicle-to-vehicle connectivity, 5G promises to widen connectivity to include vehicles and devices in their surroundings. Therefore, for a supplier of wireless chips such as Qualcomm, use of 5G connectivity in vehicles in Europe would be a boon to its business, extending the market for its chips beyond the smartphone market.
Qualcomm made a profit of $1.1 billion on revenue of $4.8 billion, which was down 20% year-over-year.