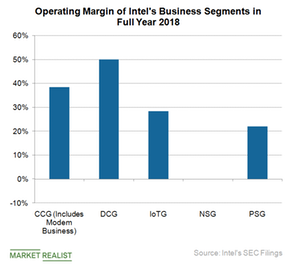 How Important Are Apple's Orders for Intel?
By Puja Tayal

Nov. 20 2020, Updated 5:06 p.m. ET
Intel denies reports of delays in 5G modems
A report by FastCompany stated that Apple (AAPL) has "lost confidence" in Intel's (INTC) ability to deliver 5G (fifth generation) modem chips on time, as the chipmaker has been missing deadlines. The report comes as Apple wanted Intel to deliver sample 5G modems in early 2019 and final modems by early 2020 so that it can launch its 5G iPhones by September 2020.
Intel denied FastCompany's report that it has delayed its 5G modems. One Intel representative told The Inquirer, "As we said in November 2018, Intel plans to support customer device launches in 2020 with its XMM 8160 5G multimode modem." Apple did not comment on the report.
Article continues below advertisement
How long will Apple-Intel relationship last?
Apple is one of the biggest customers of chip companies because of its volume orders. Apple uses its order size to negotiate an attractive price from chip suppliers, which makes it a relatively less profitable business for Intel. Moreover, Apple demands its orders are given priority above all else. Intel's fabrication facilities are expensive and it prioritizes manufacturing of its high-margin data center chips over lower-margin modem chips.
Earlier, Apple's business was beneficial for Intel as its high volume helped Intel keep its 14-nm (nanometer) capacity in use. However, as Intel transitions to the more expensive 10-nm and 7-nm process nodes, manufacturing lower-margin modem chips does not make economic sense. With finance guy Robert Swan now in the CEO position, Intel could optimize its investments where returns are high. Even though Intel will not back out from 5G modem technology, it will not prioritize these chips over data center chips.
Even if Apple decides to use Intel's 5G modems in the future, the chipmaker could outsource the manufacturing to a third-party foundry like TSMC (TSM) if it is too expensive to manufacture modems in-house.
Check out all the data we have added to our quote pages. Now you can get a valuation snapshot, earnings and revenue estimates, and historical data as well as dividend info. Take a look!