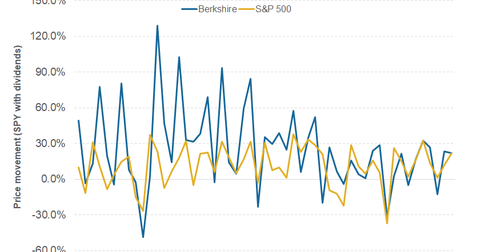 How Buffet and Trump Differ in Their Views of Jerome Powell
By Mohit Oberoi, CFA

Updated
Jerome Powell
President Donald Trump has minced no words in criticizing Fed chair Jerome Powell. Apparently, he was also contemplating firing Powell last year.
In November, speaking with the Washington Post, President Trump said, "So far, I'm not even a little bit happy with my selection of Jay." Just last week, the president lashed out against the Fed twice, calling on the central bank to cut rates and abandon its quantitative tightening program.
Article continues below advertisement
Warren Buffett
While President Trump hasn't been a fan of Powell, Berkshire Hathaway (BRK-B) chair Warren Buffett has given him support. In an interview with CNBC, Buffett said, "I think he's a terrific choice for Federal Reserve Chairman." He also said, "He is a smart man and he's– he's very levelheaded, and he– but he understands both business and economics, and I don't think you could have a better chairman."
However, the Fed's hawkish stance and its raising interest rates four times last year didn't go over well with markets. It wouldn't be unfair to say that the Fed's tightening did slow the economy down. However, from the Fed's perspective, it couldn't let low interest rates continue forever, and last year was its best chance to move interest rates into a more normalized territory.
Interest rates
Buffett's investment decisions aren't influenced by the Fed's policy decisions. However, he does attach importance to long-term interest rates. Berkshire Hathaway underperformed the S&P 500 (SPY) by a wide margin in the first quarter. Apple (AAPL), the Kraft Heinz Company (KHC), and the Coca-Cola Company (KO) were some of Berkshire's top holdings at the end of the fourth quarter.
Read Berkshire Hathaway Underperformed the Markets in Q1 to see how Berkshire's portfolio of publicly traded securities performed in the quarter.