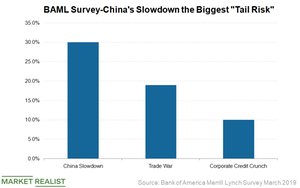 Hold That Optimism: Sticky US-China Trade Issues Are Still Around
By Anuradha Garg

Updated
The hardest part of the deal remains
The US markets recently celebrated a report in the Financial Times stating that US-China trade talks were "getting into the end-game stage."
According to the same report, the last 10% of the remaining issues "is the hardest part."
WAKE UP WITH BAGELS & STOX, OUR NEW EMAIL THAT ENTERTAINS AND INFORMS YOU BEFORE THE DAY STARTS. SIGN UP HERE!
Article continues below advertisement
Sticky issues in trade talks
While China is pushing for the United States (DIA) (IVV) to lift all of its tariffs as part of the trade deal, the United States doesn't seem to be in a hurry to make concessions until it's convinced that China won't go back on its promises. On March 20, US President Donald Trump said regarding the tariffs, "We're not talking about removing them. We're talking about leaving them and for a substantial period of time because we have to make sure that if we do the deal with China, China lives by the deal."
The Financial Times article also mentions that if a breakthrough isn't achieved this week, the negotiations could be extended to the end of June. If the tariffs remain in place for an extended period of time, the uncertainty in the markets will remain. Due to this uncertainty, businesses have been shying away from making big-ticket investments.
US companies and China's slowdown
Increasingly, many companies, including FedEx (FDX), BMW (BAMXF), and UBS, have been warning investors about the slowing global economy and China in particular. US companies Apple (AAPL) and NVIDIA (NVDA) have warned that China's slowdown is hurting their earnings. Advanced Micro Devices (AMD), Micron (MU), Amazon (AMZN), Netflix (NFLX), and Alphabet (GOOG) have also been affected by the world's two largest economies' trade tensions.
In China's Slowdown Overtakes Trade War as Biggest Tail Risk, we discussed how investors are increasingly concerned about China's slowdown and its impact on businesses worldwide.