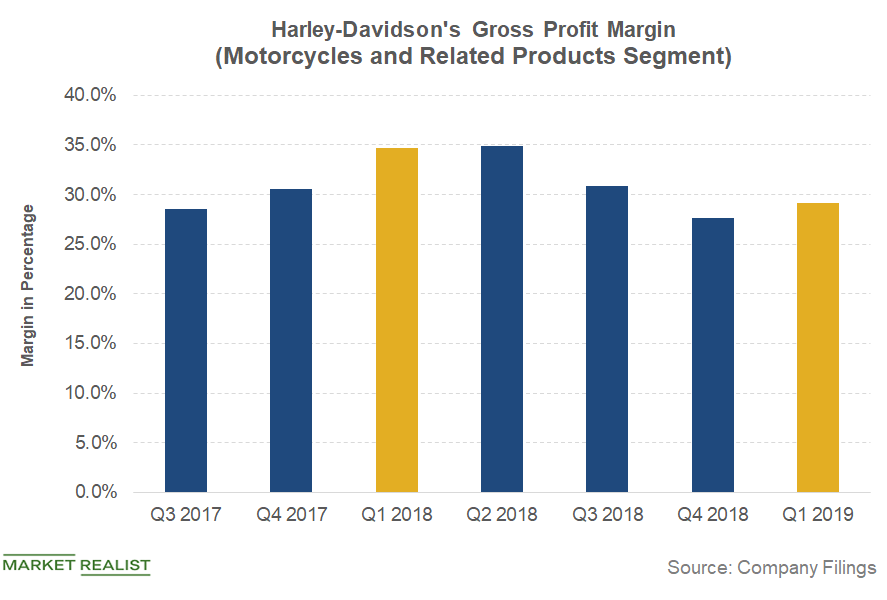 HOG Gives Trump a Reason to Escalate US-EU Trade Tensions
By Jitendra Parashar

Apr. 23 2019, Updated 1:20 p.m. ET
Harley-Davidson's first-quarter report
Earlier today, Harley-Davidson (HOG), the world's most popular heavyweight motorcycle maker, announced its first-quarter earnings results.
The company managed to beat Wall Street analysts' consensus EPS estimate of $0.65 by reporting adjusted EPS of $0.80. However, its net profit for the quarter fell 26.8% YoY (year-over-year) to $128 million.
Article continues below advertisement
A reason to escalate US-EU trade tensions
Among many key factors such as lower sales volumes, a negative product mix, and currency headwinds, steep trade tariffs levied on Harley-Davidson's motorcycles in international markets affected its profitability in the first quarter.
Harley-Davidson's falling profits due to international market tariffs gave US President Donald Trump a reason to react, which could further escalate trade tensions between the United States and Europe.
In a tweet that came soon after HOG's announcement of its first-quarter earnings results, President Trump blamed "tariffs with the EU" for its struggle. He claimed that the company was "currently paying 31%" tariffs, which forced the motorcycle maker to try to move its production out of the United States. Trump called it "unfair to [the] U.S." and warned Europe, saying, "We will Reciprocate!"
Harley-Davidson versus Trump
On multiple occasions in June 2018, Harley-Davidson outlined its plans to partially shift its production to Europe to avoid tariffs. The company's decision to move production outside the United States didn't sit well with Trump, who warned HOG on Twitter that if it were to move to international production, it would "be taxed like never before!"
While the recent decline in Harley-Davidson's profitability seems to have attracted Trump's sympathy for the moment, his prompt warning to the European Union could worry auto investors.