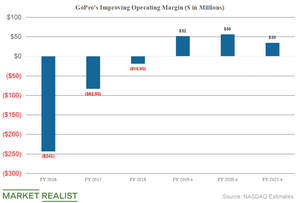 Forecasting GoPro's Revenue and Earnings Growth
By Adam Rogers

Updated
GoPro's revenue expected to grow 6.20% this year
GoPro (GPRO), which operates in a niche market, has seen flat revenue growth over the last few years. After the company's sales rose 16% to $1.6 billion in 2015, they fell to $1.18 billion in 2016.
This year, analysts expect GoPro's revenue to rise 6.2% YoY (year-over-year) to $1.22 billion from $1.15 billion. They expect its sales to be flat in 2020, at $1.22 billion, and then fall 3% to $1.18 billion in 2021. In comparison, analysts expect Fitbit's (FIT) sales to rise 2.9% in its current fiscal year, and Garmin's (GRMN) to rise 5.1%.
Article continues below advertisement
Earnings expected to rise over 226%
Whereas analysts expect GoPro's sales to rise just 6% this year, its EPS are expected to grow more due to high operating leverage. They expect its non-GAAP EPS to rise 226% YoY this year to $0.29 from -$0.23, and then 10% YoY to $0.32 in 2020. Analysts expect its EPS to grow 10% compounded annually over the next five years.
Profit margins
Analysts expect GoPro's operating margin to expand YoY from 1.6% to 4.3% this year, and then to 4.6% in 2020 before contracting to 3% in 2021. They expect the company's EBITDA to grow YoY this year from $21.8 million to $94.2 million, and to $97.3 million in 2020, and its operating profit to rise from -$18.9 million to $51.8 million this year, and to $56.2 million in 2020.