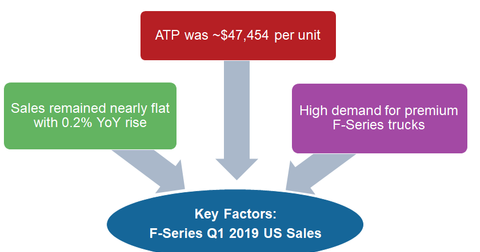 F-Series' Contribution to Ford's Total US Sales Rose in Q1
By Jitendra Parashar

Updated
Ford F-Series sales are flattening
In the first quarter of 2019, the sales of Ford Motor Company's (F) most popular vehicle brand, the F-Series, inched up 0.2% YoY (year-over-year).
Nonetheless, in the quarter, the F-Series accounted for ~36.4% of Ford's total US sales compared to 35.7% of its total US sales in the first quarter of 2018.
WAKE UP WITH BAGELS & STOX, OUR NEW EMAIL THAT ENTERTAINS AND INFORMS YOU BEFORE THE DAY STARTS. SIGN UP HERE!
Last year, the company's US F-Series truck sales rose 1.4% YoY to 909,330 units. With this, 2018 become the best year for F-Series US sales since 2005.
Article continues below advertisement
Solid transaction price
In its first-quarter US sales report, Ford highlighted that the F-Series ATP (average transaction price) was strong at $47,454 per pickup truck. This solid ATP was primarily driven by the solid demand for F-Series premium models.
Previously in 2018, the company managed to maintain its F-Series ATP near record highs due to rising demand for the King Ranch, Lariat, Platinum, and Limited Super Duty trucks. This positive demand trend helped Ford improve its total vehicle ATP, as premium pickup trucks are sold at a higher price than entry-level pickup trucks and small passenger cars.
In the pickup truck space, legacy auto companies (XLY) General Motors, Toyota Motor (TM), and Fiat Chrysler Automobiles (FCAU) compete with Ford's F-Series. GM's Chevrolet Silverado, Toyota's Tacoma, and FCAU's Ram are some of the notable truck brands in the American market.
In the first quarter, Fiat Chrysler reported a solid 20.6% YoY rise in its Ram pickup truck US sales to 137,013 units.