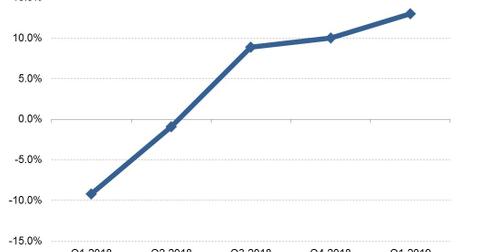 Ericsson Reminds Investors It Will Succeed on Its Own Merits
By Ruchi Gupta

Updated
Huawei's woes haven't driven business for Ericsson
Ericsson (ERIC) doesn't depend on its rivals facing political challenges to gain at their expense. About two weeks before Ericsson released its first-quarter earnings results, which beat expectations, Ericsson CEO Börje Ekholm told Reuters that Ericsson had yet to see an increase in orders for its products as a result of its rival Huawei facing troubles in America and Europe.
The United States is leading a campaign to reject Huawei's products in building 5G networks due to fears that China could use those products to spy on the countries that use them. Huawei is the world's leading vendor of telecommunications network equipment.
Article continues below advertisement
Ericsson gains without cashing in on Huawei's troubles
Despite not cashing in on Huawei's political woes, Ericsson is still making gains, showing a company that's determined to compete on its merits instead of simply capitalizing on a competitor's troubles. Ericsson's revenue jumped 13% year-over-year to ~$5.3 billion in the first quarter. Ericsson posted an operating profit of ~$540 million in the first quarter, reversing its loss of $34 million a year ago and beating the consensus estimate, which called for an operating profit of ~$310 million.
North America drives gains at Ericsson
Ericsson's gains in the first quarter were supported by the strong performance of its North American business, in which the company picked up orders for 5G equipment from some of the leading operators in the region. Last year, Ericsson was tapped alongside Nokia (NOK) and Samsung (SSNLF) to supply equipment for AT&T's (T) 5G network project in the United States. Ericsson secured a $3.5 billion multiyear 5G contract from T-Mobile (TMUS) in September 2018, and in February 2019, it won a multiyear 5G deal from US Cellular (USM).