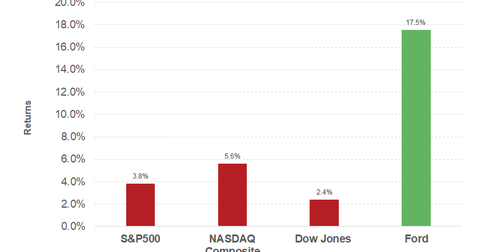 Could an Emission-Related Criminal Investigation Hurt Ford?
By Jitendra Parashar

Updated
Ford Motor Company
Since Ford Motor Company (F) released its first-quarter earnings results on April 25, many analysts have raised their target prices on its stock. On April 29, Ford stock was trading with a solid 17.5% month-to-date gain, far better than General Motors' (GM), Fiat Chrysler Automobiles' (FCAU), and Toyota Motor's (TM) 7.8%, 4.5%, and 4.9% rises, respectively.
In comparison, the S&P 500 Index has risen just 3.8% in April so far. An improvement in Ford's profitability and its better-than-expected first-quarter earnings have helped boost investors' confidence.
Article continues below advertisement
Emission-related criminal investigation
In February, Ford said that it had hired an outside company to investigate "the vehicle road load specifications used in our testing and applications to certify emissions and fuel economy." In its press release, Ford said that the investigations "do not involve the use of defeat devices" in its cars.
Defeat devices are illegal and are capable of significantly reducing a vehicle's emissions (XLY) (IYK) during emission tests by authorities.
According to an article by Consumer Reports, "The U.S. Department of Justice has opened a criminal investigation into concerns about Ford's emissions certification process." The article cites an email conversation with Kim Pittel, vice president of sustainability, environment, and safety engineering at Ford.
Among Ford's peers, Volkswagen and Fiat Chrysler have also faced investigations by the Department of Justice for emission-testing-related issues in their vehicles.
In January 2016, Volkswagen's US sales were badly hit after it was found to be in violation of US environmental law and the Department of Justice filed a civil lawsuit against it for violating the Clean Air Act. After the investigation, Volkswagen's US sales fell sharply before seeing minor recovery in the last few quarters.
Overall, the emission scandal not only badly hurt investors' sentiments but also fueled a debate about how trustworthy these big companies are. If the Department of Justice finds Ford guilty of violating US environmental law after the investigation, Ford's reputation could take a big hit.