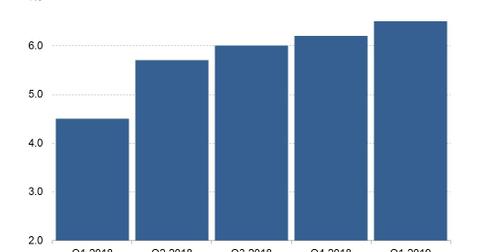 Can Twitter Fund Its 2019 Projects?
By Neha Gupta

Updated
Product development and marketing costs on the rise
Twitter (TWTR) has lined up a lot of work to do in 2019, ranging from product development to platform cleanup, all of which will require huge cash spending. Product development in particular has been a big focus for Twitter in recent times as the company seeks to set itself apart from the competition with distinctive features. As a result, the company has been pumping increasing amounts into product research and development. In the first quarter, for instance, Twitter's product development costs were $146.2 million, up from $123.3 million from a year ago.
As new products come out, Twitter has to promote them to increase subscriber and advertiser awareness about them. Twitter's marketing costs jumped to $205.8 million in the first quarter from $178.1 million a year ago.
Article continues below advertisement
Twitter sitting on $6.5 billion of cash
Twitter expects its operating expenses to increase 20% in 2019 over what it spent in 2018. Twitter's operating expenses were $2.6 billion in 2018. Plus, Twitter wants to boost its capital spending this year relative to 2018. In 2018, the company's capital spending was $487 million. In 2019, Twitter guided for capital spending between $550 million and $600 million.
Does Twitter have enough cash to bankroll its planned projects and activities? The company exited the first quarter with $6.5 billion in cash reserves, which seems like more than enough to meet its projected expenditures for 2019 even if it does not make any profit in the year. Snap's (SNAP) cash reserve stood at $247.5 million at the end of the first quarter, whereas Facebook (FB) had $45.2 billion in cash at the end of that period. Yelp (YELP) and Alphabet (GOOGL), which have yet to report their first-quarter results, held cash reserves of $756 million and $109 billion at the end of the fourth quarter.