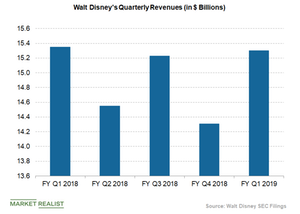 Can Disney's Streaming Subscribers Dent Netflix's Dominance?
By Sophia Nicholson

Updated
Disney+
On April 11, the Walt Disney Company (DIS) unveiled its Disney+ streaming service offering, which will be available in the US market on November 12, 2019, at a monthly subscription price of $6.99. The ad-free subscription service will be family-friendly and will offer content from the company's iconic entertainment brands—including Disney, Pixar, Marvel, Star Wars, and National Geographic—to all age groups.
Disney+ has also made deals with Roku (ROKU) and Sony (SNE) to distribute Disney+ on streaming devices and console gaming systems, as it's already planning for its service to be available on connected TV and mobile devices.
Article continues below advertisement
Subscribers
Disney is expected to make big gains in the streaming market with its films and premium original content along with the attractive pricing of Disney+. The company expects to win ~60 million–90 million subscribers from Disney+ by fiscal 2024, which will provide it with a significant revenue boost.
According to some sources, Disney+ is expected to have 75 million global subscribers by 2024, with 25 million subscribers in the United States alone. In comparison, Netflix is expected to have 200 million subscribers by 2024. Netflix had a global paying subscriber base of nearly 139.3 million at the end of December.
Disney expects its total number of ESPN+ paying subscribers to reach 8 million–12 million by fiscal 2024. The media giant also expects Hulu to gain 40 million–60 million US subscribers by the end of fiscal 2024 and to recover from losses by either fiscal 2023 or fiscal 2024. Hulu, which is owned by Disney, Comcast (CMCSA), and AT&T (T), had 25 million subscribers in the United States in 2018.